Crikey, where to start? Mae Hong Son, whilst not totally off the beaten track, is one of Thailand's lesser visited treasures with a million and one things to do and to keep the active traveller busy for days, weeks or months. Whilst not a destination for those wanting glitzy shopping malls (but why travel all the way to Thailand to hang out in a shopping mall?) or to lie on the beach (it's about as far from the beach as you can get in Thailand!), it's an amazing place to visit and explore if you're the kind of traveller who loves nature, mountains, rivers, culture, hiking, amazing food and some of the friendliest people in the country.
There are stunning beaches and islands all over the world. There are 5 star hotels in every country. But there's only one Mae Hong Son and you really should visit.
But, what to do in Mae Hong Son?
We're going to split our recommendations into some of the well-known, and less well-known, areas, towns and villages of the Mae Hong Son and then note one or two of the key things that might peak your interest. But remember, one of the real highlights of this fantastic part of Thailand is just getting out there and exploring. There are so many tiny roads and even more off road trails that every adventure turns up something incredible.
Heading clockwise from Chiang Mai (around the Mae Hong Son loop) here are the places and things to consider when planning your adventure in Mae Hong Son:
Pai
Pai is, at least from a travellers perspective, the most famous town in Mae Hong Son and the largest (at least when all the visitors are included!). The first major town you reach heading from Chiang Mai and well known from the late 70's and early 80's initially as a backpackers hang out and more recently as a romantic mountain getaway for both Thai and overseas travellers. With more coffee shops per square km than anywhere else we've ever been, food from all over the world and accommodation ranging from $5 / night up to $300 / night there really is something for everyone here.
And if the town is a bit much for you – it can get busy and the party can go on a little at times – then simply choose one of the fantastic places to stay just outside the town in the rice fields (in fact these are our favourite places anyway).
Things to do:
Much of the joy of Pai is simply relaxing and soaking up the atmosphere and views. Spending the day hanging out at a cool coffee shop and the evening exploring a few different bars and sampling all the different food on offer. But there are also some great sites and 'things' to do too.
Visit Wat Phra That Mae Yen
This is the huge white Buddha on a hill top visible from all over the town. There are more than a few steps up to reach the Buddha but it's well worth the effort, after all you need to do something to deserve the cocktails in the evening.
Learn some Yoga
Pai is well known for having been a hub of well-being / wellness for decades and Yoga has been a big thing in the town for a very long time. If you're new to it, why not join an introduction class and relax your body and mind, and if you're an experienced practitioner then don't miss out on the great Yoga sessions all over.
Explore the evening Street Markets
Pai comes alive in the evening and whilst the street markets are more on the touristy side of things, it's a lot of fun to wander around picking up food from all over the world and exploring the bits and pieces on offer. And for those who were 'travellers' back in the 70's / 80's and 90's this will take you right back to the days where ever bar played Bob Marley and ever other traveller was on the road seeking enlightenment. Definitely a fun way to spend a night.
Watch the sunrise or sunset from Doi Mieng
A bit more left-field and a hundred times better than joining the crowds at Pai Canyon, Doi Mieng is one of the highest mountains around Pai town and has a stunning viewpoint where you can see the sunrise and sunset. However, be warned, the road there is a mission taking you deep into the forest before heading up steeply to the peak. As of writing the last stretch of road is still a dirt road and not suitable for regular cars or mopeds – ask your accommodation to book a 4WD truck to take you and enjoy one of the coolest sunset spots anywhere in Thailand, without the crowds! And even if you choose a cloudy day, don't worry, the trip and roads to get to the mountain summit are worth the visit anyway.
Kew Lom viewpoint
More of somewhere that you'll stop at when travelling between Pai and Mae Hong Son, Kew Lom is the top of the mountain ridge separating Pai from the next 'major' town of Pang Mapha. The road winds up the mountain side in a series of steep hairpin bends and eventually you get to a ridge pretty much at the summit. There's plenty of space to park, a couple of small coffee shops and, the reason to come here, spectacular views across both sides of the ridge. It's easy to spend an hour here just soaking up those views…
Pang Mapha
Just over the mountain ridge from Pai, Pang Mapha is the first town you come to on the way towards Mae Hong Son town. Whilst it's a small town and not somewhere that you'd immediately think there's lots to do, it's actually an interesting little place to sit back, people watch and get a real sense of life in this part of the world. For the intrepid there are some super treks in this part of the province and Pang Mapha itself acts as a real hub for all the Hill Tribe villages in the surrounding hills
Things to do:
Lod Caves
Not too far outside the town is Lod Caves and they are definitely worth a visit. One of Thailand's largest caves set in very pretty countryside and the best way to experience them is with a local guide showing you around. A great way to spend an afternoon and the foodstalls just outside the entrance have some of the best grilled chicken you'll come across.
Morning Market
Daily life starts early in this part of the world and it's well worth getting up and heading out to experience the morning market. It's not huge and you're not going to find a treasure trove of souvenirs but it's 100% authentic, there's all sorts of food on offer and it doesn't get much more real than this. Note – in the winter it's pretty chilly here in the mornings so get a hot coffee to keep you warm as you soak up the atmosphere.
Ban Rak Thai and Pang Oung
Two fantastic small communities in between Pang Mapha and Mae Hong Son and definitely worth a detour.
Ban Rak Thai is a mountain community right on the border with Burma. Populated by ethnic Chinese people who fed the communist government decades ago, Ban Rak Thai has a really unique feeling. With a lake in the centre of the 'town', tea plantations all around and brilliant tea houses and restaurants on the lakeside, it's the perfect place to spend a night, sample superb tea and eat the famous pork that the town is known for. There's a well known 'resort' here called Lee Wine Rak Thai – definitely worth hunting out for staying overnight with rooms dotted around the tea plants.
A short hop West of Ban Rak Thai – and the mountain road between the two villages is superb – is the very small community of Pang Oung. Reasonably well known with intrepid Thai travellers who come here to camp by the lake in winter and 'enjoy' the cold temperatures (it can get down to 1 or 2C at times) the area around Pang Oung is really pretty and feels much more European than you'd expect this far into the heart of South East Asia. You can head out on a small boat into the lake or just kick back and enjoy some great food at one of the small eateries in the village or on the lakeside. There isn't a huge amount of choice of decent accommodation in the community but it's definitely worth popping on your way to Mae Hong Son.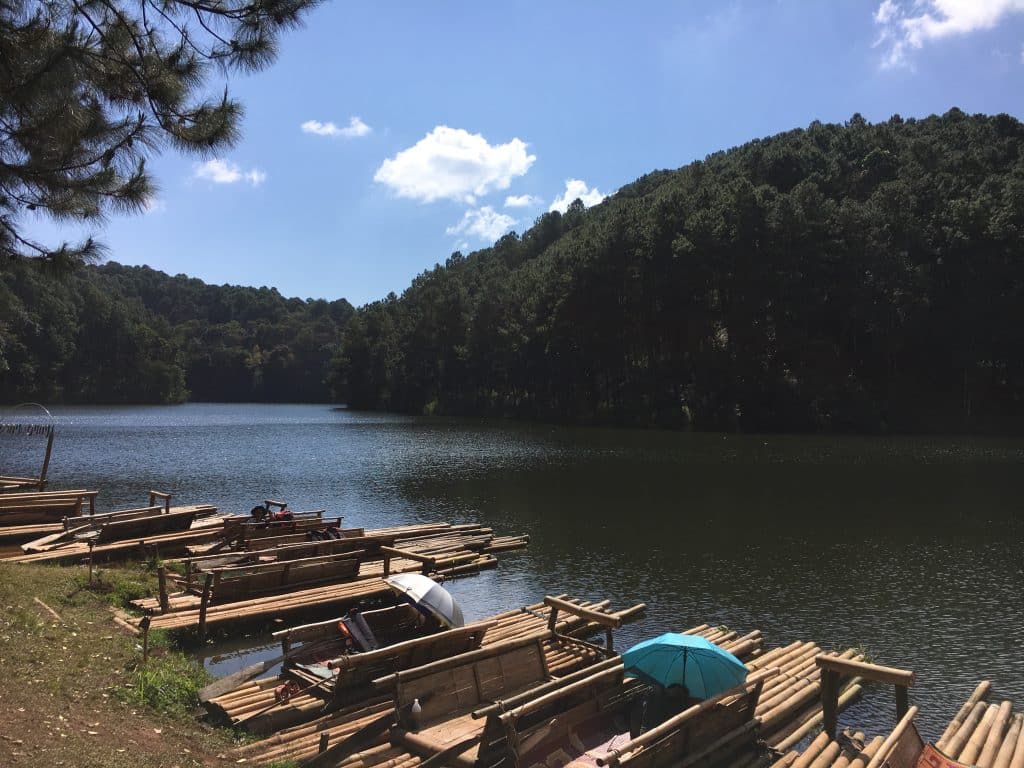 Mae Hong Son town
Mae Hong Son town is the 'capital' of Mae Hong Son province and a lovely laid back town of around 10,000 people. About as remote, and different, from Bangkok as you can get and in many ways once you're in Mae Hong Son it feels as if you're in a different country, which until just over 120 years ago you would have been!
Nestled in a valley between steep forested mountains and with a lovely small lake in the centre of the town, Mae Hong Son makes for a great place to be based for a day or two when exploring Mae Hong Son province. With a number of guest houses dotted around, a smarter hotel on the edge of town and the awesome Fern Resort *(LINK TO OUR ARTICLE) less than 10km away there's no shortage of places to stay and all build in a great sense of Northern Thai architecture and culture.
Whilst most of the top activities in the province take place out of the towns and in the mountains there are a couple of 'must do's' when in the town of very nearby.
Things to do:
Watch the sunset from Wat Doi Kong Mu
Wat Doi Kong Mu is the most important Temple in Mae Hong Son and is perched on a steep hill overlooking the town. The views are fantastic, both of the town and the surrounding mountains, there are different parts of the Temple to make merit depending on what day of the week you were born and watching the sun go down from the Temple grounds is a lovely way to end the day.
Fill up on superb street food at the night market
Once the sun sets a huge range of street food stalls spring up all around the lake in the heart of the town. Spend the evening sampling a range of Northern Thai and Hill Tribe foodie delights and join the local community enjoying the marvellous food on offer. There is no better way to spend the evening and fill up for the activities of the next day.
Visit Su Tong Pae bridge
Around 20km North (ish) from Mae Hong Son town is the very photogenic Su Tong Pae bridge. This bamboo (don't worry – there's metal underneath supporting it) bridge stretches from a small market all the way across the rice fields to a fascinating Temple that's well worth exploring looking very very different from the Temples you'll have seen in other parts of Thailand. Great photos, a lovely atmosphere and well worth a visit.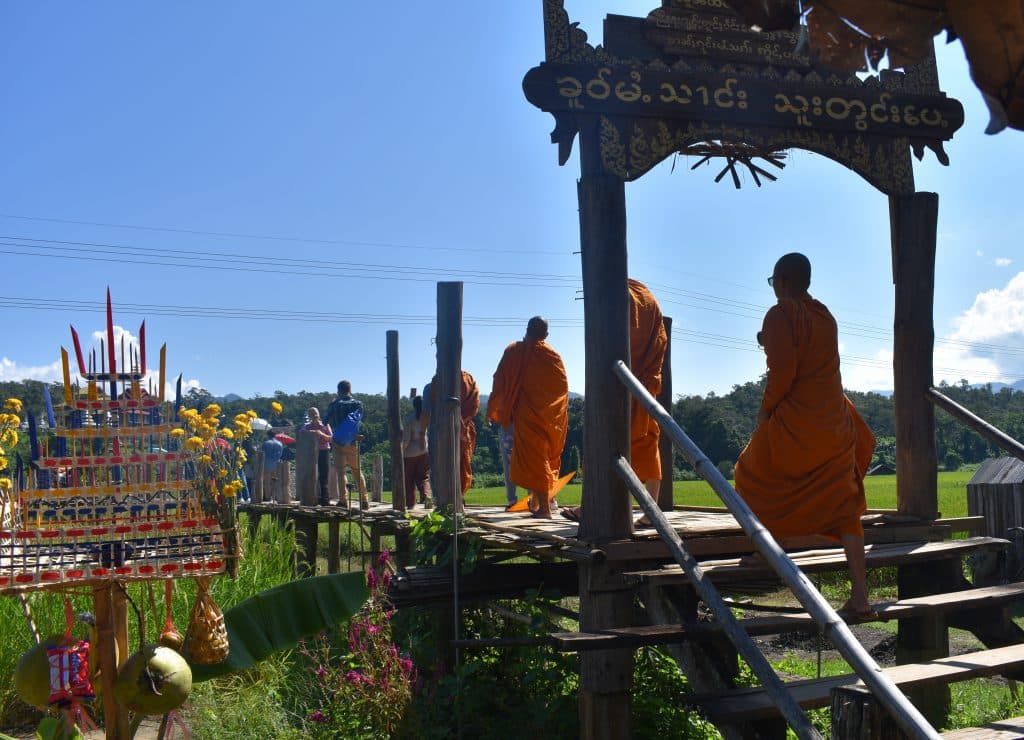 Take a river boat trip and visit some remote Karen villages
One of the most enjoyable ways to spend a day from Mae Hong Son town is to take a river boat trip (small wooden long tail boats!) down the Pai river. You can organise a 'quick' 30 minute each way trip or head out for much longer and whichever you choose there's always something very special about exploring by river – a different set of smells, views and of course the opportunity to see how local riverside villages live. There are some fascinating communities along / close to the river including some 'long neck' Karen people. If you visit a 'long neck' village please do be respectful and remember that the women are not exhibits in a zoo – ask if you can take photos and ask your guide how best to interact
Khun Yuam
Khum Yuam is both a district of Mae Hong Son province and also the next 'main town' once you leave Mae Hong Son heading South. Many travellers just whizz straight through Khun Yuam en route from Mae Sariang to Mae Hong Son but, for those with more time or a little more adventurous spirit it's well worth stopping over in Khun Yuam and having a look around. The town itself (small and largely focussed along the 'main road') is a pleasant laid back place with some great food at the evening market that's well worth exploring.
Things to do:
Random roads!
If you have your own vehicle then definitely schedule some time to explore the small roads and lanes West of the 'main road'. Within minutes of leaving the town you're in stunning countryside (mountains, rice fields etc) and passing through small villages and communities. Take random turnings – it's always easy to find your way back with maps on your phone – and you can be pretty much assured to come across photogenic villages and very friendly people. Great fun.
Flowers
This might sound like a very strange thing to come all the way to Thailand to see, but in November / December there are stunning fields of flowers high up in the mountains and definitely worth a quick detour to see. Around 25km East of Khun Yuam town, the road up to Bua Thong is worth it alone, and the fields of flowers will take your breath away – and give you some incredible photo opportunities.
The Tuk Tuk Club's favourite lunchtime spot
Opposite Wat Pho Taram in Khun Yuam is a super, small, family run restaurant that's a must visit for lunch. A great selection of Northern Thai food, without any airs and graces (the way it should be), and also something for the more adventurous – such as raw buffalo larb – this is the perfect place to re-fuel after a morning exploring or to get enough energy for your afternoon activities.
Mae La Noi
A small town in between Khun Yuam and another place that the vast majority of traveller just wizz past on their way from a) to b). But, again, if you've got the time it's worth taking a pause and exploring – particularly the roads and communities up in the mountains to the East of the main road
Things to do:
Head into the hills!
If you've got your own transport then heading up the small road (No 1266!) West from the town of Mae La Noi takes you up into an incredible word of mountains and small villages. The road winds it's way high up above Mae La Noi town, the views are simply spectacular and the further you travel the more fascinating the villages are. Ban Lay Oop is one such village – spread along a mountain ridge it's a superb place to get a sense of mountain village life. The community have set up a number of homestays where you can stay – and enjoy a fantastic meal with the family in the evening – which are well worth experiencing (simply but the experience is more than 5*) and just wondering around the community is a fantastic way to spend the day.
Mae Sariang
The 'last' town on the Mae Hong Son loop – from here you either head South to Tak province (well worth an explore) or East back towards Chiang Mai – and a fantastic place to stay and explore. Set along the river Mae Sariang has a great 'vibe' to it – one where visitors are very welcome but you get the sense (rightly) that life won't change whether you are there or not, always the best places to visit.
Surrounded by mountains – and with the wild Salawin National Park right on it's doorstep – Mae Sariang is a superb base for the more adventurous traveller. Excellent trekking, remote villages, hot springs and a real sense that you're well and truly off the beaten track. There are also a number of great places to stay along the river ranging from super cheap backpacker style hostels to a couple of very nice small hotels – all perfect for sitting back by the river enjoying a cold beer as the sun drops behind the mountains.
Things to do:
Explore the morning market
Get up early and have a good look around the morning market. 100% authentic – this isn't a tourist market – great food, brilliant people watching and a great start to the day.
Trekking
If you're looking for challenging trekking in areas that are far less developed and busy that around Chiang Mai and Pai then this is the place for you. From one day hikes to multi-day full on treks staying in tiny mountain communities, trekking in the mountains around Mae Sariang is a must for any outdoor enthusiast.
There are of course many many more places to visit and things to do in Mae Hong Son, like most of the Northern provinces in Thailand you could easily spend months exploring the mountains and small communities and still only scratch the surface. But we hope the list above gets you off to a good start in planning any Mae Hong Son travels and of course, why not explore Mae Hong Son with The Tuk Tuk Club on our 11 Day Adventure taking you into many of the highlights and keeping you in the heart of the action all day, every day in our bright orange Tuk Tuks.
Keen to learn more about Mae Hong Son? Have a look at all our travel articles on Mae Hong Son covering everything you need to know and more about this stunning part of Northern Thailand
Ready to book Thailand's best travel adventures? Choose from The Tuk Tuk Clubs fantastic adventures throughout Mae Hong Son and Northern Thailand