Chiang Mai Weather
Two of the most common questions we get asked:
'When's the best time to visit Chiang Mai?' and 'What's the weather like in Chiang Mai?'
And there's no simple answer really as the best time of year to visit really does depend on what you're planning to do and what sort of weather you like. And there are pro's and con's to all times of year here – like there is everywhere! But here's our summary of the weather and the best times of year to visit Chiang Mai and Northern Thailand
Winter – roughly November to February
Traditionally the most popular time of year to visit Chiang Mai, both for Thai travellers and international visitors. The temperatures are much cooler at this time of year and once rainy season has had it's last few storms – usually late October into early November but more and more flexible as weather patterns become less reliable – clear blue skies and very little rain.
In Chiang Mai city daily high's are still warm – low 30C's – but humidity is low and the weather feels pretty much perfect ie you can walk around pretty comfortably without overheating. In the evenings temperatures drop to high teens / low 20C's making it perfect for sitting outside with a cold beer enjoying some of the superb food throughout the city. And you might even want to put on a light jumper / trousers on the coolest nights of the year.
Up in the mountains the cooler weather is even more noticeable. Day time is still lovely and warm with temperatures, depending how high up you are, reaching mid to high 20C's – perfect for hiking, cycling, Tuk Tuk Adventures and pretty much anything you can think of. However, the evenings get decidedly more cool with most mountain villages seeing overnight temperatures dropping to around 10C or even lower. And whilst that might not sound cold for those used to European / North American winters remember that there is now heating up in the mountains so it does feel pretty chilly. But, nothing that jeans / trousers and a fleece / good sweater won't cope with. And the big bonus is that this weather makes it perfect to sit around a campfire up in a mountain community sharing food, stories and the odd beer or too.
It's worth noting that the cold is even more noticeable at Thailand's highest peak, Doi Inthanon. A couple of times each year the temperature will drop below zero overnight and this always attracts big local crowds keen to see frost and the odd bit of ice. Indeed, even for travellers it's pretty cool (sorry!) to experience proper cold in the tropics – although it soon warms up again as you head back down the mountain.
So, weather wise winter is a great time of year to visit. Warm to hot days, low humidity, little chance of rain and lovely cool evenings. However, on the flip side, this is the busiest time of year for both Thai travellers and overseas visitors and whilst it's always very easy to escape the 'crowds' some of the most famous sites can get very busy and some of the most popular places to stay can fill up well in advance. A final note, by the end of 'winter' we've often not seen any rain for 3-4 months and the scenery can get very dry and brown, the waterfalls can be less of a force of nature than during the rainy season and the rivers obviously start to dry up a bit. And, as the rice is usually harvested from late September through to late October if you visit in winter you won't see that amazing green of the rice terraces. But this is a small price to pay for the simply beautiful weather – made even better if you're escaping the harsh winter of Europe and North America.
Summer – roughly March to May
The hottest time of year by some distance and usually the quietest time of year in Chiang Mai and Northern Thailand. And when we say hot, it can get seriously hot during this period. Daily highs of 40C + are not uncommon and the humidity levels can be pretty high making mid-afternoon the perfect time to relax with an iced coffee rather than walking around the streets of the Old City. Whilst Chiang Mai never feels as sticky as Bangkok – is there a sweatier city in the world? – mid afternoon can be uncomfortable sometimes and a hat becomes your best friend very quickly.
Up in the mountains the temperatures don't reach the same highs but it's still pretty warm with daily temperatures hitting the mid 30C's on a regular basis.
The good news is that things do cool down in the evening. One of the beauties of Chiang Mai is that evenings here are rarely uncomfortable warm and whilst you're not going to need a sweater it doesn't feel bad sitting outside enjoying food and a beer.
One of the positives of visiting the region in summer is that it's pretty quiet and you can sometimes feel you have South East Asia's best adventure playground all to yourself. And, mid April sees Thailand enjoy celebrate Songkran (Thai New Year) and the celebrations in Chiang Mai are legendary with huge water fights all around the city and a general party atmosphere going on for days. During the COVID-19 pandemic these celebrations have been cancelled so, should all be 'normal' in 2022 April might just see one of the wildest celebrations ever known!
One thing to note about travel in the North at this time of year is that this is the period known as the 'burning' season. There are lots of reason behind the burning – and not something we're going to go into here – but air quality levels are much lower than the rest of the year and some periods can see a smog descend over the city for days at a time. Once you're up in the high mountains you are often above the smoke and suddenly see blue skies again and the smoke certainly doesn't last for the whole period and isn't something that you see every day, but if you have lung / chest issues then it might be a good idea to avoid the North at this time of year. Having said that, we've run many adventures throughout the 'summer' and all our travellers have loved it, it's certainly not as if the whole region is engulfed in smoke for weeks at a time.
The rainy season – roughly June to October
Many people hear 'rainy season' and think it's not a good time to travel but actually it's our favourite time of year to explore Chiang Mai and Northern Thailand! Once the rains arrive it really does feel as if life is coming back to the region and everything starts to look even more spectacular than normal. Rice is planted again – and you just can't beat gazing out over rice fields in the mountains, the forests become incredible green, rivers fill up and the waterfalls become even more spectacular.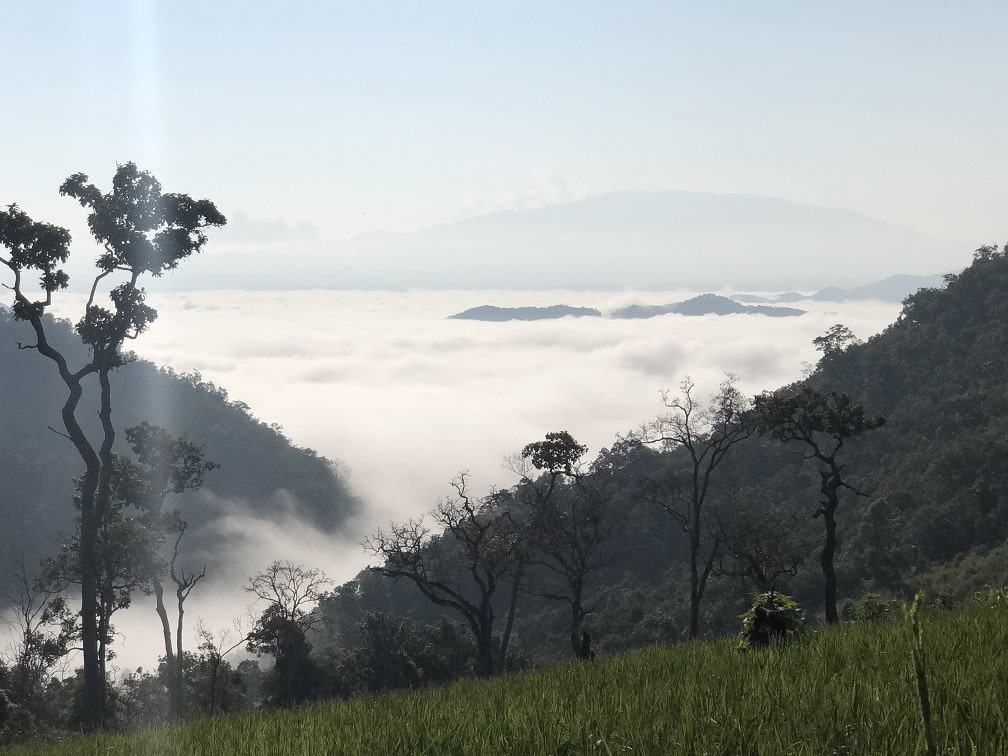 Temperature wise things get a bit cooler with daily highs in the low 30C's and some days a little cooler, others a little warmer. Evenings are fantastic – not too hot and not too cold – and of course up in the hills everything is a few degrees cooler again giving the odd night where you might want to have a light sweater to keep warm. Humidity can be relatively high but not uncomfortably so and exploring on foot is nothing like the challenge it can be during 'summer'.
But what about the rain? Of course no-one wants to travel to Thailand just to be wet the whole time, and why would you? The good news is, is that that's very rare. Even in the height of rainy season we can go days and days with no rain and lovely blue skies. And then when it does rain it's more common for their to be a big downpour followed by sunshine drying things up very quickly. And it's far more common for the downpours to be in the late afternoon meaning it's relatively easy to plan your day around the chance of rain. Of course from time to time there are some huge storms where everything comes to a halt for an hour or two. But rather than being a pain, it's actually fantastic to sit back and watch nature work it's magic.
Very occasionally we can see two or three days of drizzle but this is very rare and, for those heading out on adventure, actually a really nice way of keeping cool whilst your hiking, cycling, kayaking etc etc
The real magic of the rainy season however is the views you get in the mountains. It's not uncommon to be up in the mountains and able to see mist and clouds down below winding around the forest and it feels truly spectacular and exotic throughout the whole rainy season period. A photographers delight and this is when the region really does feel like that South East Asian mystical land
So, when is the best time to visit Chiang Mai?
As you'll see from the above it really does depend on what you're looking for. And of course when you're able to travel – after all, not everyone is lucky enough to be able to choose any time of year to head off on holiday. But, if your calendar is totally free then we'd recommend October as the very best month of the year, closely followed by September (the rice fields still look spectacular) and November (the rice is harvested by everything else still looks wonderfully green).
But don't be put off if you can't make it to Chiang Mai during these months. The Tuk Tuk Club run adventures every month of the year and all our travellers enjoy their adventure through Northern Thailand irrespective of the season. And then many return for another adventure with us to experience everything again but at a different time of year.
They key really is to understand that Chiang Mai has different characteristics at different times but the essence of the region remains a wonderful place to explore no matter when you are here.
Keen to learn more about Chiang Mai? Have a look at all our travel articles on Chiang Mai covering everything you need to know and more about the gateway to Northern Thailand
Ready to book Thailand's best travel adventures? Choose from The Tuk Tuk Clubs fantastic adventures throughout Chiang Mai and Northern Thailand