CHIANG MAI ELEPHANT HOMES
Chiang Mai is famous around the world for it's elephants and a visit to an elephant sanctuary is, for many, one of the highlights of a trip to Northern Thailand. But, with well over 30 different elephant homes, sanctuaries and camps how on earth do you choose which one to visit?
Elephants have been a significant feature of Thai culture for centuries and have a significant place in the heart of most Thai people. You'll see images of elephants literally everywhere in the country – on clothing, on ornaments and one of the most famous beers in the country is even named after elephants.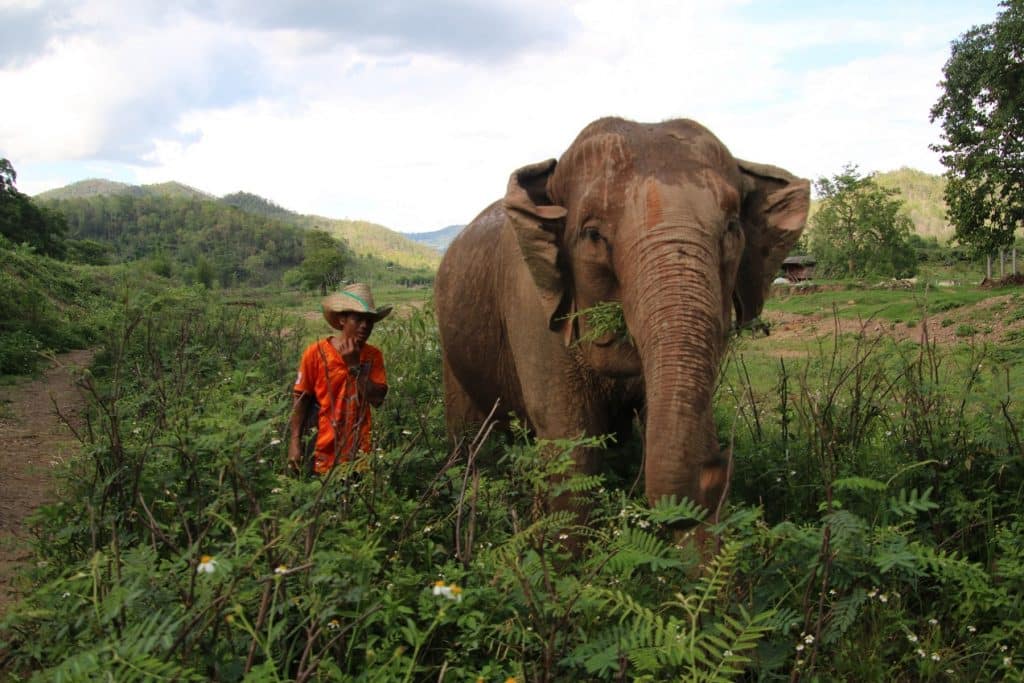 Historically elephants were used both in the military (the Thai cavalry used them much as European armies used horses) and by farmers and the logging industry. They were also an expression of power and wealth – the more elephants you had, the more powerful a person you were. Elephants have, unsurprisingly, featured on Thai currency in the past and even today, they bring a smile to face of pretty much every Thai person who meets these wonderful animals.
However, in recent times there has been much discussion and controversy over how elephants are treated and used in the tourism industry in Thailand. Without getting deep into the details of what has become a passionate and often quite vitriolic discussion, it must be noted that, the vast majority of elephant homes in Thailand care deeply about their elephants.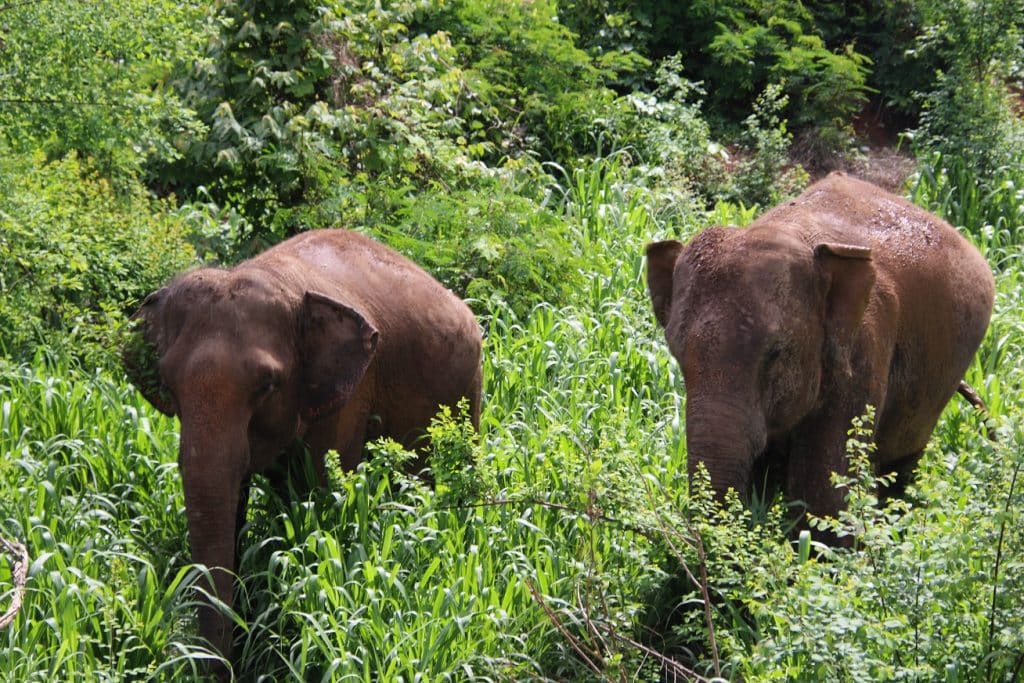 So, if you are keen to see and learn about elephants how on earth do you go about choosing where to visit?
Most elephant homes in Chiang Mai are nowadays turning away from offering elephant rides and focussing on the opportunity to watch and learn about these lovely animals. Whilst not being experts this feels right to us and it's actually far more awe inspiring to stand and look up at an elephant and get a sense of their majesty and size!
Our favourite elephant home!
Our favourite elephant home is one that we've known for many years. A very small home with eight elephants in a the valley of Mae Wang, around 1.5 hours from Chiang Mai city, MaeVang Elephant home has it's heart and soul totally focussed on the elephants. You have to book a visit – you can't just turn up! – as it's a small home and really focusses on offering relaxed and semi-private experiences for small groups of people. There are no queues of minivans and pushing and shoving to get a photo here! At the home you can learn about the history of these elephants and then help the mahouts feed them. You can also walk with (well behind!) the elephants through the countryside down to the local river where the elephants bathe every day. It's then up to you whether you help the mahouts bathe the elephants or sit back and just enjoy watching the elephant frolic in the river. This home focuses it's energies on it's elephants rather than PR and marketing – exactly the way it should be we reckon – but do have a Facebook page you can contact them through. The perfect place for laid back and relaxing elephant experience and a far cry from the busy, less personal experience at many of the more famous homes in Chiang Mai.
The Tuk Tuk Club visits MaeVang Elephant home on our 1, 5 and 11 day adventures and have been delighted to help raise funds to support the elephants during the pandemic which has hit all elephant homes very hard over the last 18 months
Other elephant experiences to consider
Chai Lai Orchid is a stunning small resort located on the top of a hill overlooking a small Karen community that supports 5 elephants who live around the resort. Perfect for combining an elephant experience with a unique and stunning overnight stay if you have more than a day we'd highly recommend this as the best way to spend some time learning about elephants and also enjoying the amazing scenery around Chiang Mai. Chai Lai Orchid also can arrange for incredible professional photos from your time with the elephants – stunning memories from your trip – as well as local treks, great food and one of the best overall experiences for a short stay in Chiang Mai. It should also be noted that all of the profits from this resort go towards supporting the education and skill development of vulnerable women from remote communities – and the staff at the resort are all from these communities having been trained and given these great professional opportunities. A superb place in every single way
If you're looking for a much wilder experience and have more time then we'd highly recommend looking at the trips run by the Mahouts Elephant Foundation. A superb organisation that supports not only elephants but the communities reliant on them they run 3 and 4 day adventures deep into the mountains of Tak province (South West of Chiang Mai) where you live with a remote Hill Tribe community and hike into the forest to observe their elephants. This really is an incredible adventure and unique opportunity to experience life in a seriously remote mountain village and spend time watching beautiful elephants in their natural habitat.
Of course there are plenty of other elephant homes and experiences throughout Chiang Mai and the surrounding area but these are three places we know very well and where we can vouch personally for the incredible work they do and the huge care and love they have for their elephants and the community who are reliant on them
Keen to learn more about Chiang Mai? Have a look at all our travel articles on Chiang Mai covering everything you need to know and more about the gateway to Northern Thailand
Ready to book Thailand's best travel adventures? Choose from The Tuk Tuk Clubs fantastic adventures throughout Chiang Mai and Northern Thailand