The 'traditional' holiday to Thailand for decades has been a couple of nights in Bangkok, always a great shock to the system for new arrivals, a couple of nights in Chiang Mai and then a week or so in the South on a beach or island. Backpackers might spend a little longer in Bangkok, a couple more days in the North and weeks longer in the South but even then the routes seem to have been set in stone since the 1980's with very little real variation.
And this is fine – millions of people have had wonderful holidays / adventures and travels in Thailand following this broad itinerary and I'm sure will continue to do so.
But let's stop and think for a minute. Why do so many people spend hours and hours on a plane to visit Thailand? It's easy to understand the appeal of a week or two (or more!) sitting under a tree sipping a cocktail by the sea but do you really have to fly so far to catch some sun? And by focussing the majority of your holiday around a beach, which in many ways is no different to beaches much closer to home, aren't we doing a disservice to the rest of Thailand and missing out on the real charm and exotic nature of this fantastic country? The more that upscale and multi-national chain properties take over the beach resorts, the more they resemble a beach anywhere in the world, the more the Thai food on offer becomes a pale imitation of the real deal in other parts of the country and the more diluted the 'Thailand' experience becomes. After all a Mai Tai in Thailand tastes much the same as a Mai Tai in the Mediterranean, the Caribbean and even, dare I say it, Blackpool.
So how does a traveller add that magic to a holiday in Thailand. The times where you realise you're a long way from home, that you're immersed in a total new and fascinating culture, the times where you sit back and go 'wow' and remember the travel moments for the rest of your life?
Bangkok is of course the gateway to most into Thailand and it's an amazing city with all the hustle and bustle it's famous for and much, much more. But, it's hot and steamy, it's draining to walk around and, like many huge cities these days, becomes more and more homogenous as the global brands take over. There's little more upsetting than seeing holiday makes in Starbucks and McDonalds rather than a tiny locally owned coffee shop or food stall. I'd never say that travellers should miss out completely on Bangkok – the key sites are amazing, canal trips great fun and the street food unbelievable – but the real heart of Thailand lies elsewhere, and that location should be the North!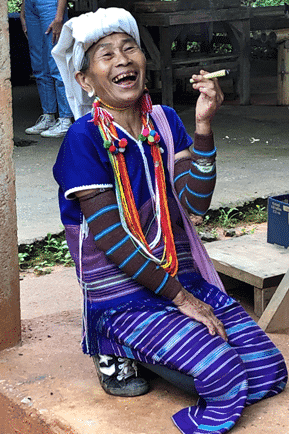 If you're looking for a 'fly and flop' beach holiday then perhaps read no further (and there's nothing wrong with chilling on the beach – I just think you can get much more out of your time in such an exotic country than a tan and the odd hangover!) but if you're looking to experience Thailand in all it's glory then throw away the standard itineraries and focus on the North, trust me, you won't regret it.
Chiang Mai is the gateway to the North and incredible easy to get to. A huge number of very reasonable flights daily between Bangkok and Chiang Mai make it super easy or be a bit more adventurous and take the overnight train – comfortable, fun and always great to see the sunrise in the North.
The city itself is a lot of fun. The 'old town' has enough Temples to keep the biggest Temple fanatics happy, enough coffee shops for the most discerning of coffee addicts and enough street food to expand your waist. Nimman is another area worth exploring with its galleries, even cooler coffee shops and more modern vibe. And of course there is a huge choices of superb places to stay, from cheap as chips guest houses to very swanky (with prices to match) hotels. But rather than following the crowds in staying for 2 – 3 nights, heading up to see Wat Doi Suthep (great but busy….) and maybe seeing some elephants before rushing to the beach, the real beauty of the North – and Thailand – starts just a little way out of the city, but a long way further than most people venture.
Chiang Mai province is huge (the second biggest in Thailand) and just the start of the wonders of the North. Full of mountains, forests, rivers, waterfalls, and tiny rural communities, one you leave the city you suddenly realise you really are in a very different country. Add into this mix the huge number of different ethnic Hill Tribe communities and you have, for want of a better word, a very exotic mix and the sort of experience that makes the long trip to Thailand worthwhile.
The deeper you go into the hills, the fewer travellers (Thai or overseas) you see and it very quickly starts to feel as if you're on a very real adventure. People in the mountains tend to be incredibly warm and welcoming, even if you don't share a common language (although interesting many Karen communities speak more English than Thai's in the more urban areas). People are often as interested in your as you are in them making for a much more balanced experience. And whilst there are 'commercialised villages' it's not very hard at all to avoid these (just don't take the mass tours on offer in your hotel in Chiang Mai!) and to quickly get off the beaten track.
The roads throughout the region are incredibly good meaning its easy to head off by hire car, bicycle (although make sure you enjoy long, steep climbs!) or even Tuk Tuk (the only mention of The Tuk Tuk Club I promise).
Trekking, or even just walking, in the mountains and forests is incredibly rewarding. No crowds, surrounded by nature, fresh air, waterfalls, towering trees – maybe not as easy to 'Instagram' as some locations but incredible satisfying to explore.
And once you've got off the beaten track in Chiang Mai province then you've still got a huge number of amazing places to experience. Anyone who visits Mae Hong Son never regrets it, but not enough people do (other than a quick trip to Pai which whilst fun, doesn't have the real charm of the rest of the North). More mountains, a huge amount of forest cover, awesome winding roads, superb food, even more fascinating Hill Tribe communities and perhaps the friendliest people anywhere in the country. And, incredible places to stay from camping high in the hills at Pang Oung to staying in a Chinese community at Ban Rak Thai, from the stunning Fern Resort near Mae Hong Son town to the laid back riverside hotels of Mae Sariang. And we've not even started to talk about the homestay opportunities with mountain communities – basic but the sort of experience you'll never forget and something that you won't be able to replicate closer to home.
This is real travel. Culture jumping out at you from every angle, incredible scenery everywhere you turn, beautiful Temples that feel calm and relaxed (a very different experience to the famous, overcrowded sites 'on' the tourist trail) and people who are genuinely pleased to see you as an individual, not just another traveller amongst a never ending stream of travellers. People who are happy to sit and chat, to share stories about their lives, their community, their culture and history giving you the opportunity to have yet another experience that you'll remember forever.
And this is just two of the 'Northern' provinces. Chiang Rai, Lampang, Lamphun, Uttaradit, Phrae and Phayao all have plenty to offer travellers looking for that real experience and interaction rather than just being served food and drinks by local people at the beach. And there's one final 'must visit' part of the North that even fewer international visitors get to – Nan.
Simply stunning is the only way to describe the province. Steep mountains, narrow valleys, Hill Tribe communities, National Parks and more wow moments a day than a month of beach life. Well known by Thai's who appreciate nature and stunning scenery but hardly featuring for international travellers – and I'd take a bet that you'll be hard pushed to find an itinerary from the large international travel companies featuring Nan – this is an awesome place to travel to. Don't expect familiar 'Western' brands but do expect stunning local food. Don't expect a Hilton or a Four Seasons, but do expect cool, laid back local places to stay full of character and charm. Don't expect crowds of people, do expect time to enjoy nature at it's finest. That's the only way to describe this hidden gem and should be a must on all discerning travellers bucket list.
So, next time you're thinking of a trip to Thailand then have a look at your itinerary and triple the time you were planning to spend in the North. You might not get as deep a suntan (but that fades anyway and isn't that great for you!) but you'll get triple the travel experience. You'll have clear memories that last a lifetime, you'll get an insight into how Thailand really is away from the 'mass-tourism' of the South, you'll see breath taking scenery and immerse yourself in a truly exotic part of the world.
And how can you do this – as I said, very few travel companies spend much time in the North and those that do all tend to follow the same routes and bus you around every day meaning it can often feel like rush rush rush to get you to the beach.
Of course I'd say that The Tuk Tuk Club's 11 day adventure is the very best way to immerse yourself in the North of Thailand (sorry, I said I'd only mention The Tuk Tuk Club once but…). Remote mountains roads, communities, hiking, waterfalls, food, cool places to stay – you've got the lot. But if Tuk Tuk Adventures aren't for you then don't give up on the North.
Plan to stay for a minimum of 7 days taking in Chiang Mai and Mae Hong Son provinces. Add a few more days and head over to Nan. Or, be more random and explore Phayao, Phrae, Uttaradit and 'see what happens'
To bring things to a close, if you're the sort of person who travel to fully experience something new, who enjoys the 'exotic', who doesn't want to be surrounded by hordes of other travellers, who wants experiences to last a lifetime and enjoys the energy you get from stunning natural surroundings then the North is where it's at. When the world starts travelling again don't forget the beaches (who doesn't enjoy a little time by the sea) but focus your trip on the heart and soul of Thailand – the North – and have a real adventure. Trust me, you'll wonder why you hadn't done it before..