Our very last day on the Tuk Tuks and our longest journey ahead, all the way back to Chiang Mai. It was a poignant day for us as it was the first anniversary of Chloe's death. I had already asked Graham if there might be the opportunity for a blessing and he said he would see what they could do.
Our first stop was at some more hot springs – more like boiling hot!
We then had a break at a beautiful teak temple. It was very simply adorned with some stunning trees around it. Tony was happy to arrange the blessing but first we needed to buy some offerings for the monks. He kindly organised all of this and while the others were having coffee, we went back to the temple. It was beautiful. The monk opened the main doors to reveal a beautiful red blossomed tree. We then carried out the blessing by pouring water over our finger to send good wishes to the departed. The monk wanted to know our thoughts on reincarnation. Tony was so good – it was very moving.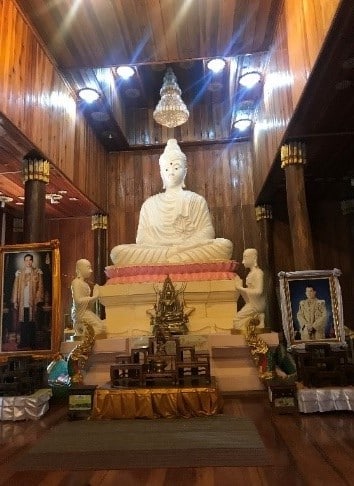 The rest of the group were so very kind when we came back and gave us lots of hugs! I couldn't think of better people to spend such an important day with.
The rest of the journey was stunning. It was the clearest day we had had. The scenery was beautiful and for once, we were able to get an amazing view from Tony's chosen viewpoint. Lunch was delicious from a tiny little roadside café. I even managed to buy a lovely bag from a stall on the roadside.
By 5 o'clock, we had returned to our start point to be greeted by Bruce. We couldn't stop enthusing about our amazing trip.
Our final supper was a hoot. The Kiwis performed the Maori Haka dance for us which was hilarious. Russell told some wonderful jokes and Tony enjoyed his new baseball cap!
What a truly amazing adventure we had. We saw so much of the real Thailand with a fantastic group of people. We will cherish our memories forever. Now …… to the beach!