We were allowed a lie in this morning – breakfast was at 9am! Tony made us local coffee, served with fresh mango, watermelon and fried chicken. While we were eating breakfast, we watched the owners preparing our lunch – Pad Tai, with pork, chicken, vegetables, noodles and egg, all wrapped in a banana leaf.
After breakfast, we set off in the back of the truck for our walk through the forest. Tony carried the lunch and Graham, the water. We were led by a local guide who was wearing the traditional outfit of the Karen Tribe.
We walked downhill and Tony pointed out the trees that were protected, some of which were used in the past by the Karen people as medicine. We also came across plantations from the Hmong tribe. Tony told us that they are much harder working and entrepreneurial than the neighbouring Karen Tribe who are much more relaxed (although it has to be said the Karen people say the exact opposite!!!)
We walked on to the most amazing waterfall. Sadly, Maddie slipped and broke her phone but not to worry , it was still working. The water was so powerful. It was just amazing to think that it was still flowing so fast even with it being so dry. We walked a little further and came across another waterfall where we could bathe. It was cold but very refreshing!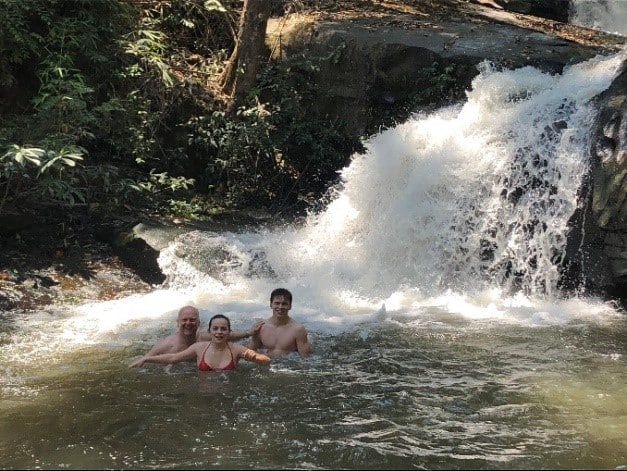 We walked a little further and came across a snake in the tree. Graham said it was poisonous as it had red markings on its green body. Pam was quite amazing as she was so determined to do the walk on her crutches – a true inspiration!
Finally, we found a lovely spot on some rocks and sat down to have our Pad Thai. It was absolutely delicious. Tom said it was his favourite meal of the trip!
After lunch, we walked further out of the forest to some farmland which is rented to the Hmong by the Karen. It was beautifully kept and we feasted on freshly picked strawberries.
At the end of the walk, we reached the Karen village where we drank some of the local coffee. The water was boiled on an open fire. We arrived back at the hostel in the late afternoon for a well-earned rest and a Thai massage!