Thailand is rightly famous for it's Temples and the spectacular Wat Phra Kaew (and Grand Palace) and Wat Pho are on everyone's must visit list in Bangkok (and if you go you'll really see that they are on literally everyone's list!). Further North, Wat Phrathat Doi Suthep is another must see – beautiful and fascinating but hardly peaceful and relaxing as crowds of people visit the Temple every day. And whilst these Temples are beautiful and hugely important for Thai people, the will to visit more can often fade after battling through crowds and crowds of people waving selfie-sticks everywhere and pushing and shoving for the best photo.
However, head off the beaten track a little and it's not hard to experience Temples in a far more tranquil setting and get an understanding of just how much they underpin everyday life in the country. Rural Temples may not be as spectacular as the 'big three' but the experience is far more enjoyable and gives you the opportunity to learn far more about the how, why's and wherefore's of Temples in Thailand and to get under the skin of this fascinating country.
Below are few images of some of our favourite Temples dotted around Northern Thailand. Not always the most famous and often rarely visited (by travellers) but all with fascinating stories and a deep connection to the communities the serve. And, most importantly, a real insight into real life in Thailand.
Next time you travel to Thailand think about popping into a handful of random Temples not in any guidebook – you might just have a very pleasant surprise!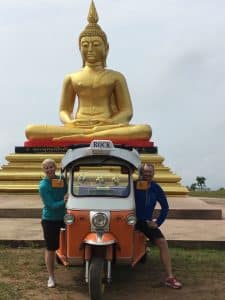 Perched on a mountain ridge, high above Mae La Noi, Mae Hong Son
Fascinating rural Temple in Mae Hong Son province
Wat Chalerm Prakiat in Lampang province, a tough walk up but well worth it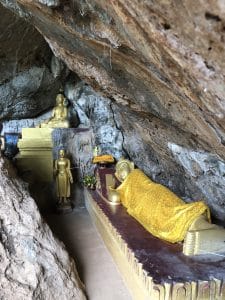 Wat Tham Nam Hu in rural Chiang Mai
Wat Doi Sapanyoo – only 45 mins from Chiang Mai city but hardly ever visited.
Wat Nong Yen – real beauty in the heart of a small village, Chiang Mai
Making merit in a remote Temple, Chiang Mai province