Another extract from Ella's diary – the route from Mae Hong Son to Pai…..
My diary of a Tuk Tuk Adventure – Day 8
We said a sad farewell to Fern Resort and the town of Mae Hong Son as we headed off again in our Tuk Tuk convoy – up and over more mountains towards our destination this evening, the pretty well known town of Pai.
The road out of Mae Hong Son was a very gentle start to the day following the valley and through small villages and communities. Before we knew it, Tony (our fearless leader!) was turning off and heading even deeper into the countryside and then pulled in at the start of a very cool bamboo bridge stretching away across the rice fields to a Temple. Whilst apparently this can be pretty popular with travellers, we didn't see anyone else around as we walked over the rice fields and explored what seemed to be a very different style Temple with really interesting imagery and statues and clearly influences from the ethnic groups living in the mountains all around.
Then it was back into the Tuk Tuks and yet more curves (I lost count about three days ago), hills, villages and great views stretching into the distance. It's hard to put into words just how 'out there' this whole region feels. So beautiful, so unspoiled and everyone seeming to be so welcoming. It feels as far from the stereotypical busy Thai beach resort as I can imagine – well of course we're not in beach territory but you know what I mean.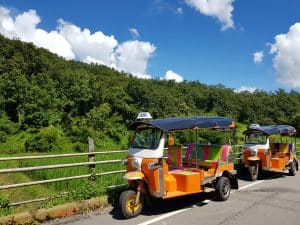 Our next stop was Lod Caves. I'd never heard of them before and as we drove for around 30 minutes down tiny rural lanes was wondering what on earth was in store. Even when we arrived at the caves themselves I was still none the wiser. However, Tony fixed us up with a local expert and once in the caves it was 'wow'. Huge caverns, crystals and then bamboo rafts to float along the 'river' – brilliant and well worth the side trip. When are we going to stop being 'wow'd' I wonder and I'm already feeling that I could probably spend a lifetime or two in this part of the world and only scratch all that there is to see.
Back on the road we convoyed for around another hour until it was coffee time again. This time at a 'layby' with awesome views and a great 'swing' with four seats on it. All good fun getting on but slightly difficult as we tried to work out how to get off – and kept all the local Thai visitors in stitches of laughter!
Late afternoon saw us drop down into a valley and arrive at our accommodation for the next two nights. Set around 5km outside the town to Pai our place really was lovely. Secluded, large bungalows, rice fields, mountains and yet another lovely pool. This is the life and definitely the way to relax after a great day's adventure.
In the evening we decided to take a minivan into Pai town to explore (and very quickly all voted that Tuk Tuks are definitely the best way to travel – no offence to the minivan and driver, it's just that it's hard to bond with a minivan, but I'm already in love with my Tuk Tuk). The markets were much bigger than those in Mae Hong Son and it felt more geared up for tourists but it was still fun nonetheless and we enjoyed playing some pool, enjoying a beer and feeling slightly sorry for the other visitors who haven't had the adventures we've had up to this point! Tuk Tuks are definitely the way to go and we all just feel so much more in tune with the country and region than we would if we'd been in minivans all the time.