Day 7 from Ella's diary…..
My diary of a Tuk Tuk Adventure – Day 7
I might have thought today was going to be a day of rest (book, pool, mountains!) but Tony and the team encouraged us to join them and 3 new guides on a trek, right from the resort itself.
Heading off across a small bridge I was wondering who / where the 3 new guides were until I noticed 3 lovely dogs running in between us all. Turns out they are the resorts dogs who head off with anyone doing this trek making sure you don't get lost and keeping you company the whole way. Very cool!
The trek was great. Balancing our way across small streams and taking baby steps up muddy hills. It really felt like we were in the wilderness (I guess that's the idea of a trek after all!) and we came across lovely waterfalls deep in the forest. Quite hard work but definitely worthwhile and I was really pleased Tony suggested the trek and that we also had the dogs along with us.
Once we got back to the resort it was time for a little laze by the pool with a book (and maybe a beer) and to soak up the great views and chilled atmosphere that seems to follow us around.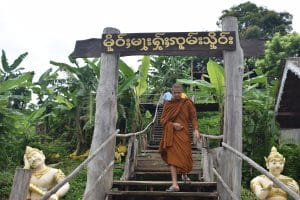 In the evening we decided to head into Mae Hong Son to explore. Tony took us all to the a stunning Temple over looking the town (Wat Doi Kong Moo) where we watched the sun set and the sky turn amazing shades of red and pink. Wow.
From there we walked down into the town itself and explored the local market next to a small lake which seems to be the focal point for the town. Again I couldn't help but feeling how lucky I was to see life just sort of taking place all around me. Nothing feels like it's just set up for visitors – but of course we're always welcomed to join in and be part of whatever is going on.
Dinner was yet another feast. Burmese food this time (we're not far at all from Burma and the influence from over the border is huge) and all delicious and feeling so different from Thai food (but with some similarities if that makes any sense at all!)
Finally, it was back to the market to indulge in some retail therapy – including a 'Hill Tribe' hat for Tony which he seemed to love – and then back to the resort and a fantastic nights sleep.