Ella's second to last day…….
My diary of a Tuk Tuk Adventure – Day 10
A big day ahead – the longest drive of the adventure at around 180km – and, according to Tony, one of the best drives possible (and he's always been right so far so who am I to doubt him!)
So, after a big breakfast to build up energy for the day we headed off from the lovely Phu Pai Art Resort on our journey South.
Within a few km's we were already way way off the 'main' road and passing through more tiny villages and in what felt like very remote areas. Soon enough we pulled over and Tony took us to a hidden hot spring and as if by magic the team brought out some eggs for us to cook for a mid-morning snack! With boiling water – and the 'lovely' smell of sulphur floating around us – the eggs were soon done to perfection and we had the very weird experience of sitting eating boiled eggs in the middle of nowhere. Cool.
It was then back to the winding roads and before long we were at the community of Wat Chan. A hub for the Karen farmers further into the mountains this village had a great feel, a superb coffee shop (have you noticed the theme to this adventure?!) and a beautiful teak Temple which we explored.
The route we were on was really spectacular with real variation in scenery. One minute it feels like we're at the top of a mountain and the next we're passing through valleys with lots of small local farms and villages. Great scenes and incredibly welcoming people everywhere we went – and even the odd motorbike pulling up along side us to take photos of this marvellous convoy.
Lunch was a great local feast, I'm going to miss these lunches when I get home, a cheese sandwich and a bag of crisps isn't really going to cut it, and then we continued to wind our way towards Mae Wang where we are staying tonight.
We went through all sorts of villages and one which we christened the 'Rio of Thailand' as it had a huge Christ the Redeemer statue at the entrance (perhaps you had to be there). Then there was Tony's favourite pit stop of the whole trip – a small hut with an amazing few and some local children selling the tastiest oranges I've ever had.
Finally we drop down the same amazing bendy road we'd headed up on Day 3 and started to recognize where we were, back in the Mae Wang valley. We felt like real adventurers heading home as we drove along the valley, past the elephant home from Day 2 and then past where we all learned to drive what felt like in another lifetime. To think that just 10 days ago I'd never driven a Tuk Tuk and now I felt like a professional having piloted my lovely orange Tuk Tuk of fun up and over mountains and along some of the greatest roads I've ever been on.
By the late afternoon we pulled into the drive way of our accommodation and couldn't help jumping out of our Tuk Tuks and hugging each other. What a simply stunning day and 10 days. Of course I was excited before the trip but I really couldn't visualise what it was going to be like. After 10 days of full on adventure with what are now great friends I couldn't quite believe what we'd done and everything we'd been lucky enough to experience.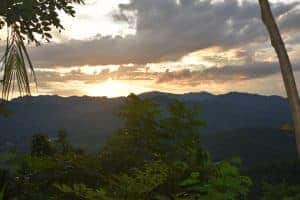 But there was one last treat. We headed out for a final dinner and Tony and the team made sure that all our favourite foods from the last 10 days were all included. That and what felt like a never ending supply of cold beers and never ending chat of what a brilliant time we'd all had.
It was quite late by the time I settled into my room and I fell asleep with dreams of Tuk Tuks, mountains, villages and some of the most welcoming people I've ever met.