Northern Thailand has it all – from incredible mountains and elephants to warm and friendly people and amazing food. Not forgetting rafting, trekking, culture and glittering temples – and is a must visit on any half decent travel itinerary to Thailand or even South East Asia. And Chiang Mai is the beating heart of the North and, for almost every visitor, the gateway to everything in the region – and likely to be even more so with airlines such as Emirates launching direct flights from Dubai to Chiang Mai in early 2018.
However, with the average stay in Chiang Mai being 3 nights (combined with 3 nights in Bangkok and then 5 nights on an island) how on earth can you see all of the North's highlights and experience it's charms in such a short stay?
Up until now we'd say that you couldn't – and of course to really experience this amazing part of the world you do need to give yourself a longer time – but as from the middle of August there's a new adventure tour that gives you the opportunity to cover almost all of what makes Northern Thailand such a fantastic destination.
So, what are the highlights of the North?
Probably the list below:
Elephants
Mountains and forest
Culture
Food
Rafting
The opportunity to see Thailand is like behind the hustle and bustle of Bangkok and the ever- increasingly 'touristy' islands
The Tuk Tuk Club's brand new 1 Day Adventure, launching on August 15th, covers all of these and more and is the best way to spend a single day exploring this fantastic part of the world. And of course it includes driving your very own Tuk Tuk which definitely beats any other form of transport we can think of.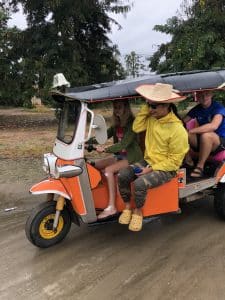 Starting with an early pick up in Chiang Mai city you transfer to the Tuk Tuk driving training centre set in the beautiful Mae Wang valley around an hour from the city. Surrounding by small farming communities, forest, hills and Temples you are trained by the team to get to grips with your Tuk Tuk and unleash your inner taxi driver! Don't worry, it's not as tricky as you might think and our team will get you up to speed much quicker than you might think. Once you've mastered the Tuk Tuk you'll then head in convoy through tiny rural roads winding through rice fields and communities up to a remote meditation Temple. In this short journey you'll get more of an insight into real rural Thai life than most people do in their whole two week holiday in Thailand! After exploring the Temple and learning about how the monks live you then jump back behind the 'wheel' through yet more lovely country lanes until you reach a small but incredible elephant home.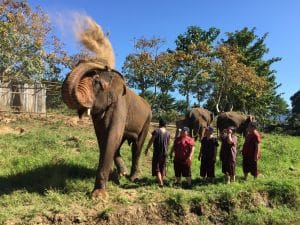 This elephant home is perhaps the perfect way to learn about and interact with elephants in Thailand. There are more famous homes and certainly those with far more visitors, but if coach loads of tourists and being at what is in effect is a safari park isn't your thing, this home is the place to see. Having understood that elephant trekking isn't the way to put elephants first, the owners and mahouts have transformed their operation into an 'elephant first' set up. The experience starts with them discussing the history of the home and elephants in Northern Thailand and then you get the chance to help prepare their food and feed the elephants. Then, you walk (note: walk NOT ride) with the elephants through the countryside to the local river when you can swim with them and help the mahouts bathe them. A truly memorable experience and through the groups visiting the home we're enabling the owners to expand what they do, to create a larger fenced area for the elephants and, hopefully, to show more and more people that this form of experience is the best way to learn about and see elephants and that it doesn't take hundreds of visitors a day to make things possible.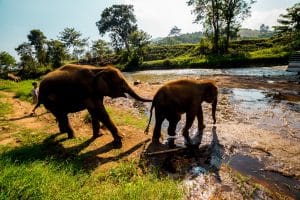 Once the elephants are bathed it's then time for the next part of this adventure – rafting. Now we're not talking white water rapids and white knuckle danger, rather bamboo rafts floating gently down river through forest, rice paddies and small villages. Great fun, great views and a brilliant antidote to the hustle and bustle of everyday life.
Finally, you join up with your Tuk Tuk again and drive back through the winding roads to base camp where you transfer back to Chiang Mai City at the end of what it perhaps the perfect, and best, day out possible in Northern Thailand.
This adventure ticks pretty much every Northern Thailand box – elephants, culture, walking through beautiful countryside, food, mountains – and of course has the added ingredient of driving your very own Tuk Tuk. Sure, there are other options on offer from Chiang Mai but is there really any other day that packs so much and gives you the bragging rights of having driven your very own Tuk Tuk?