Chiang Mai is the gateway to Northern Thailand, the largest city in the region and the former capital of the Lan Na Kingdom. Packed with Temples, galleries, coffee shops and artsy boutiques it's become a real hub for those looking for a more laid back Thailand perhaps reminiscent of years gone by. On top of the arts scene – and in true Thai style, every 'scene' is open, warm and friendly unlike in so many other countries – Chiang Mai is also perhaps the hub for the more adventurous travellers to Thailand with soaring mountains, deep forests, beautiful rivers and many 'hill-tribe' communities. Any trip to Thailand is not really complete without spending at least some of your time exploring both Chiang Mai city and the province of which it's the capital.
So here are 5 'cool' things to do when you're in Chiang Mai (and trust me, this is just the tip of the ice-berg!)
Cycle up to Wat Doi Suthep
Sure, almost every itinerary including Chiang Mai visits Wat Phra That Doi Suthep, the iconic temple seated high up on a hill overlooking the city. With a temple having been situated here for over 600 years, it has huge significance to Thai people and is a must see for any visitor. However, why take the boring option and sit with tens of others in a coach, minivan or songtaew which, to be honest, can make it feel as if you're just yet another person on the never ending conveyor belt of visitors? Instead, get some air in your lungs and some pain in your thighs, rent a bike and cycle up. There are plenty of bike rental shops in Chiang Mai city offering everything from old clangers right up to super fancy carbon road bikes so there's something for every budget and every style.
The ride is around 15km and yes, it's steep in parts, your thighs will burn and you might want to take the odd breather on the way but this really is the way to get to the temple, and have no small degree of self-satisfaction when you make it to the top. And don't worry, there are plenty of drink and food vendors at the top to re-fuel and ready yourself for the ride back down. And heading back down is where the real joy comes – take in the great views, the breeze cooling you down and the pleasure of doing things the 'right way'!
Hint – rent the lightest bike you can, it makes a huge difference once you're heading uphill.
A night out in 'Nimman'
Nimman is where today's 'cool kids' hang out with cutesy / artsy coffee shops, too cool for school little restaurants and some great bars and nightlife. A million miles away from the cheap as chips backpacker bars, it's not always cheap but a great insight into how Chiang Mai's residents party. Don't miss Beer Lab with it's huge menu of beers from all around the world – in fact this could easily be your whole night with it's friendly staff and clientele and more beers than you thought were possible.
Hint – think about staying in the Nimman area, it does make it much easier to stumble home!
Visit Chiang Dao – and spend a night or two
Chiang Dao is a village and the name of one of Thailand's highest mountains. Set in stunning scenery – think rice fields, forest and mountains – the village and surrounding area has some great places to stay, foremost being the very laid back Chiang Dao Nest with cool rooms, a great location and a brilliant menu. Alternatively, seek out the Chiang Dao Treehouse for a very different take on rural hideaways. When in the area don't miss the natural hot springs in the forest and, if you're feeling like a challenge, the two day, one-night trek to the top of Doi Chiang Dao.
Hint – test the water of the hot springs before you jump in, no-one looks their best half boiled!
Visit Doi Inthanon
Doi Inthanon is the highest mountain in Thailand at over 2,500 metres and well worth the day to visit. Whichever route you take, you're guaranteed great winding roads and awesome views. The road goes all the way to the top of the mountain and from there it's a short walk to the actual summit with a shrine for you to pay your respects at. Although the actual peak isn't anything to write home about (with a car park, souvenir shop and a research station), the journey is fantastic and not to be missed.
Hint – even in the height of summer, take a jacket or sweater and in the winter wrap up warm, it's chilly up high mountains no matter where you are in the world!
Spend some time with elephants
Chiang Mai is famous – or depending on your view, infamous – for it's elephant camps. There are a huge number of 'camps' throughout the province, many of whom are still stuck in the dark ages offering elephant rides etc. However, there are more and more places that are offering visitors the opportunity to spend time with elephants, walk alongside them and help mahouts bathe them with no riding at all and a fascinating way to learn about and spend some time with these wonderful animals and also to learn about the people who look after and care for them.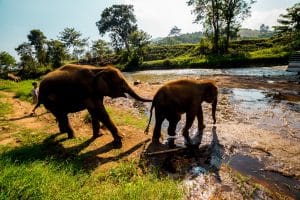 Hint – don't always believe the hype online, seek out a smaller set up that isn't spending all it's time marketing and you'll almost certainly have a more interesting time (and you know your money isn't just being ploughed back into marketing!)
Of course there are plenty more things to do in Chiang Mai and the province, but cover off these 5 and you're going to have had a great start to any adventure in Northern Thailand.