Like lots of people I've spent much of my life being told that so many things aren't possible, aren't a good idea or are simply crazy and like lots of people I've spent far too much time listening to the doubters! However, I fell in love with Tuk Tuks back in the mists of time (the late '80's) on my first trip to Thailand but never quite had the nerve to ask a driver if I could have a go. Years of travelling to Thailand for pleasure and business saw me always itching to get behind the wheel but still not plucking up the courage until around 18 months I became friends with a Tuk Tuk driver, told him of my dreams to drive around the country and, much whisky later, we'd agreed a deal for me to rent his Tuk Tuk and head off on a real adventure.
The Tuk Tuk Club was born! After thousands of kilometres touring the country it came to me that this really is THE way to travel, that Tuk Tuks aren't actually very difficult to drive and that the natural air-conditioning keeps you cool even on the hottest days in Thailand. Of course the semi-celebrity status of pulling up to a village as a foreigner driving a Tuk Tuk always ensured an invitation to share some food, drinks and chat which helped more than a touch. And on those occasions where I didn't quite make it to a village or town, the rear seats of a Tuk Tuk are surprisingly comfortable.
Still, in many places I went, I was told, 'your Tuk Tuk will never get up the mountains' or 'it's far too steep, you won't make it' but at last I'd realised it was best to ignore any negative vibes and give it a go. On arriving in Chiang Mai I couldn't wait to put the trusty Tuk Tuk engine to the test and headed through the back roads to Doi Inthanon, Thailand's highest mountain with some seriously steep roads. Nerves kicked in as various drivers pulled over to laugh and say 'you'll never make it' but with a little bit of love and attention – and the odd stop to keep the engine cool – bit by bit the seriously steep roads were conquered and we made it – we being me and my trusty Tuk Tuk of course. Wow, if I get up here then surely I can get anywhere in the country was my thinking but within a couple of hours I learned to my cost that whilst Tuk Tuk's are hardy little things, they aren't invincible. Dirt roads at an incline of 25%+ and I met my match and was saved by a very patient local farmer who gave me detailed directions more suitable for a 650C engine. So, having seen that I could manage steep regular roads but that off-road was a step too far, on I headed and explored the stunning mountains and forests of Mae Hong Son province, one of the most beautiful places I've ever been lucky enough to explore.
Throughout the province the roads were amazing, the scenery out of this world, the people great fun and there's no shortage of great places to stay giving that little bit of luxury after a day of exploring. And one includes what must be the best bar in the whole of Thailand. No music, no flashing lights but a simple wooden platform on the edge of a rice paddy facing the exact spot where the sun disappears each evening between two mountains. That and a never ending supply of the coldest best tasting beers I've ever had confirmed for me that this is what life really should be about – or at least the bits of life when we get to take some time out and have an adventure.
The rest of the trip passed in a wonderful blur of mountains, fantastic food, requests for photos (I hate to think how many Facebook updates I ended up in!), no little adventure and some awesome small hotels and, had I not had a family to return to I think I'd still be out there exploring now.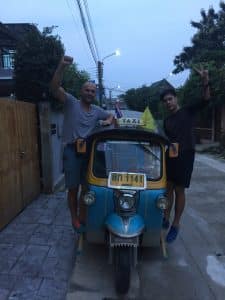 Lessons learned from the adventure?
Driving a Tuk Tuk is addictive and a huge amount of fun
Thailand is still a fantastic place full of warm and welcoming people, you just have to explore a little harder and get off the beaten track to find them
Country style Thai food means you'll never be happy again with your local Thai restaurant back home
Cold beer, a rice paddy, and a cracking sunset is probably the best way on earth to end the day
If you'd like to experience a real Tuk Tuk Adventure in Thailand – just get in touch at [email protected]. It really is the best way to see this wonderful country.