An epic 900-kilometre adventure through Thailand's highest mountains doesn't sound like the most luxurious adventure in the world, but that would be judging a book by its cover which we do not encourage! Our adventures have always surprised people by how comfortable they have been, and we would not be foolish enough to leave that to lady luck – it's by design!
Our founder first drove a Tuk-Tuk from Bangkok to Chiang Mai back in 2017. He rented a local Bangkok Style Tuk-Tuk (the kind you see all over Instagram and Facebook) from an acquaintance and set out on a week ling adventure to see if the journey was possible.
Of course, he found it was, but it wasn't without its difficulties. First of all, that original Tuk-Tuk ran on LPG, with a small tank fitted at the back – designed for frequent refills and general city use it meant a journey through countryside and local communities was not without fear of running on empty. Also, Bangkok Style Tuk-Tuks are an old form of transport designed for the slightly smaller local Thai population, and they haven't changed much since their first inception nearly 100 years ago in the 1930s.
Our Tuk-Tuks were custom built to add an extra foot of leg room and head space to accommodate for bigger western bodies and to allow you to stretch out if you need it. They also have reinforced padding on the seats for extra comfort! We've even included a sunroof and rain guards to make sure the weather will never dampen our spirits either.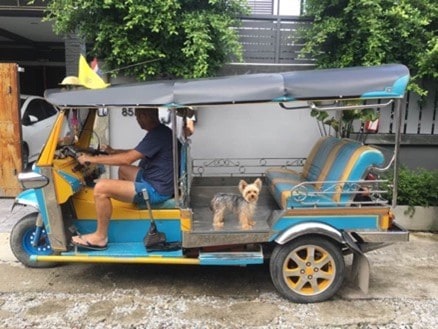 Not only were our Tuk-Tuks built to be comfortable, but they were also built to be easy to drive! Typical Tuk-Tuks will have an engine size of maybe 150cc and run on LPG, but ours have Daihatsu engines taken from a car with 650ccs and run on petrol – giving us the extra oomph to climb all those mountains and the peace of mind that we'll always be able to refill them (we'd like to convert them to electric but the infrastructure in rural Thailand isn't quite there yet!).
Tuk-Tuks are usually manual transmission too, but we recognise that people don't want to spend their whole trip thinking about shifting gears, so we made ours automatic. Just twist the throttle and you'll be off! You also don't even have to worry about navigation or traffic. Our guides will always lead the convoy, and if it's a bigger group they'll book-end it too. They'll always have contact with each other through our walkie-talkies so they'll also direct traffic around us and keep us safe on those country roads.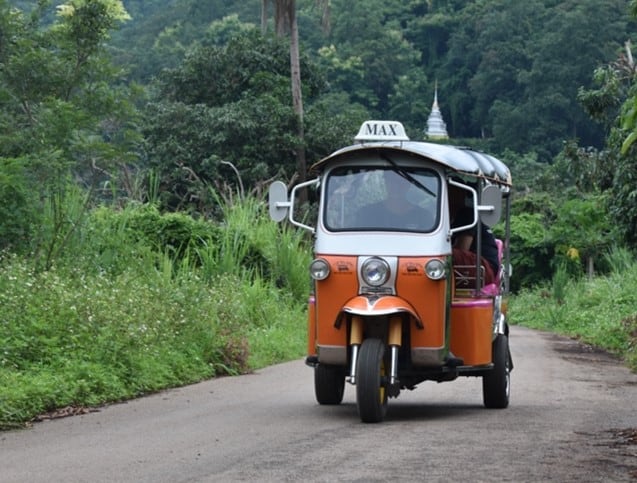 But enough of the Tuk-Tuks – after all you are with us so you can see the real Thailand too – we've carefully selected our route through an extensive research process in order to find not only the safest but the most enjoyable route through the mountains. Most roads in Thailand are surprisingly well maintained, but nevertheless we have picked routes over the smoothest roads possible while ensuring the sense of adventure is never compromised. The views are always spectacular and will leave you mesmerised.
Not only are our routes and Tuk-Tuks designed for luxurious adventure, but our guides are some of the most knowledgeable people around. They always know the best places for a pit stop or viewpoint, and trust me, they are not afraid to make stops if they feel you need them. Our team will always try their best to accommodate your needs, whether that's a special request while on the road or using their skills to work out what you need and when.
The final piece to the comfort puzzle must surely be the matter of accommodation. While we label our trips as true adventures that doesn't mean we force you to leave your comfort zone and sleep in tents. We use the best hotels available in each of our locations with the caveat that we do not use large chain hotels. Warm showers and large beds are available after every day of adventure, and we always arrive at our locations before the sun sets – giving you ample time to enjoy everything your hotel has to offer.
Our trips include most of your meals, with delicious breakfasts every day and group dinners on the first 4 nights, we think there's no better way to get to know your fellow travellers than to share a curry and a beer with them! But if that's not your cup of tea don't worry, from day 5 onwards we leave you to explore each communities culinary options by yourselves and who knows what interesting delicacies you might find!
To find out more about adventures with The Tuk Tuk Club why not have a look at our 11 Day and 5 Day Adventures – come and join us for the trip of a lifetime