NORTHERN THAILAND PROVINCES
Northern Thailand's Provinces deliver the very best of Thailand to the intrepid traveller and we think you simply can't go wrong in spending the whole of your trip to Thailand in the North – but then again we are slightly biased!
Whilst officially Northern Thailand is made up of 17 provinces (9 in the 'upper North' and 8 in the 'lower North') we're going to focus on the Upper North here with provinces ranging from the world famous Chiang Mai to the rarely visited Uttaradti, Phrae and Phayao. One thing is for sure, spend time in any of these provinces and you'll experience the warmth and hospitality that the North is famous for, spectacular mountains, fascinating culture and enough to keep you busy for months and months of travel.
So without further ado, here's our quick guide to the provinces of Upper Northern Thailand and a highlight or two in each one to help you plan your Northern Thailand adventures.
The second largest province in Thailand and one of the most famous. Gateway to the North for many and synonymous with elephants, mountains, Hill Tribes, trekking, Temples…you get the gist.
Chiang Mai is a fantastic province to visit with enough adventure and activities to keep even the most demanding traveller busy. And it's not just about adventure, there are also some superb laid back hotels and resorts to enjoy your escape from everyday life.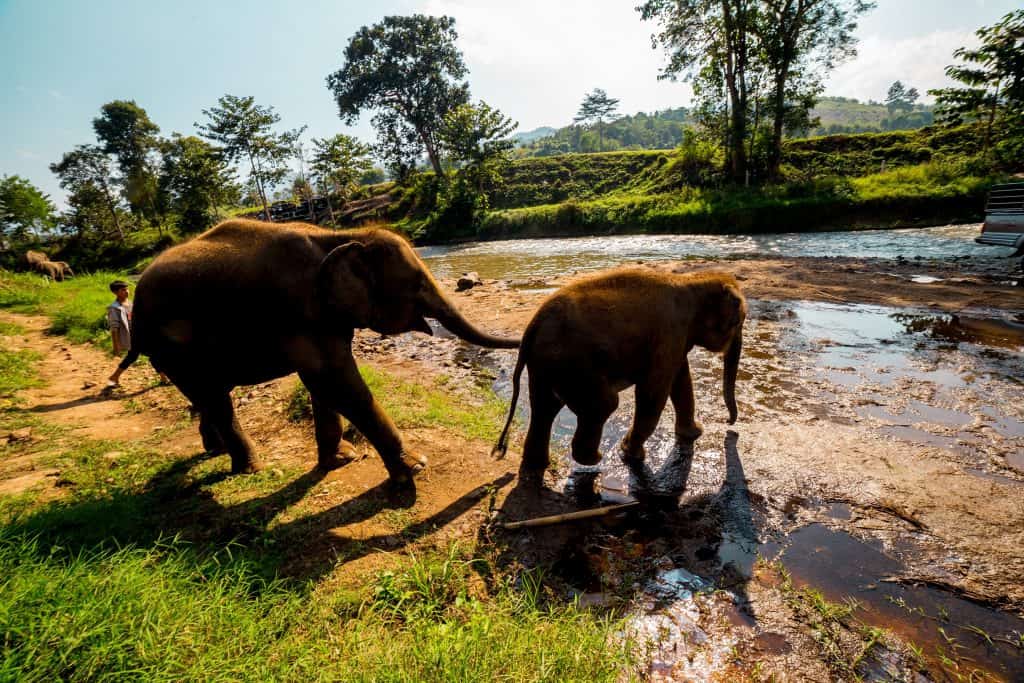 Highlights:
Wat Doi Suthep – the stunning Temple on a mountain overlooking Chiang Mai city
Doi Inthanon – Thailand's highest mountain
The Tuk Tuk Club – this is our home and base for all our adventures
Located in the far North West of Thailand running along the border with Myanmar, Mae Hong Son is simply stunning. Made up largely of small mountain communities it's no surprise that it has the lowest population density of any province in Thailand, even it's largest town, Mae Hong Son, only has a population of around 10,000 people. The perfect destination for anyone who loves mountains and nature and is keen to explore and experience Hill Tribe communities and culture. The real jewel in the crown of Northern Thailand.
Highlights:
Fern Resort – THE place to stay in Mae Hong Son
Pai – originally a real 'backpackers' hangout, now fast becoming a centre of well-being breaks and alternative lifestyles
Ban Rak Thai – a fascinating border community with resorts set in tea plantations. A superb place to stay for a night or two.
Chiang Rai
Thailand's Northern most province and yet more mountains, Hill Tribes and stunning scenery and delicious food. Whilst Chiang Rai town is interesting, the real action lies in the mountains where there are superb places to stay, fantastic trekking and hiking and incredible mountain communities to explore.
Highlights:
Wat Rong Khun (The White Temple) – on pretty much everyone's list but well worth a visit!
Doi Tung and surrounding area – beautiful mountain scenery, a Royal Project and mountain Hill Tribe communities
Trekking from Doi Mae Salong – get your thighs pumping hiking through the stunning mountains
Phayao
Phayao is in the far North of Thailand bordering Laos and is one of the least visited of any province in Thailand. Whilst it doesn't have the famous draws of the more well-known Northern Thailand provinces, if you're looking for a genuine experience of laid back Northern Thailand life and getting totally away from any other travellers it is worth dropping in and exploring. There are plenty of mountains, National Parks and Temples to keep you busy.
Highlights:
Phu Langka – a stunning viewpoint over a bowl like valley and a mountain ridge in the distance. A great place to stay overnight and watch the sunrise and cloud formations in the early morning.
Doi Luang National Park – fantastic hiking and plenty of waterfalls including the 9 tiered Pu Kaeng falls.
Phu Sang waterfall – a cross between hot springs and a waterfall, the water is around 35C so lovely to relax in, even during the winter!
Nan
In the far North East of Northern Thailand, Nan is simply spectacular. Steep mountains, deep valleys, rivers, Hill Tribes – this is the perfect province for all nature lovers looking to get away from it all. It's hard to describe in words just how beautiful Nan is, you just have to go and see for yourself!
Highlights
The mountain ridge road between Pua and Bo Kluea – simply incredible
Ban Saphan – a fantastic small village with great places to stay along the river. Rural mountain Thailand at it's very best
Trekking in Doi Phu Ka National Park – another great opportunity to get your thighs burning exploring the mountains and forest of this stunning region.
Uttaradit
Another province that's little known amongst visitors to Thailand and for that reason alone well worth visiting – you're guaranteed a 100% authentic experience. Yet more National Parks, mountains and a border with Laos all waiting to be explored.
Highlights
Explore Uttaradit town – as it receives so few overseas visitors it's a great opportunity to experience regular life in Northern Thailand
Hiking along the remote border with Laos – this is really wild territory with deep forests, steep mountains and tiny remote communities. Perfect for full on trekking
Go camping at Phu Miang – spend a night under the stars camping in the mountains with spectacular views.
Phrae
Again, a province rarely visited by overseas travellers in the mad rush to get to Chiang Mai and Chiang Rai, but Phrae is a lovely laid back province of which over 65% is covered with forest. With two National Parks and plenty of old historic buildings Phrae is well worth taking some time to have a look around for those wanting to explore with pretty much no other travellers around.
Highlights:
Phae Muang Phi forest park – stories of ghosts and spirits and mushroom rock formations make this park well worth a visit!
Phrae's Saturday Street Market – markets don't get more authentic than this. Running every Saturday evening and the perfect place to experience real Northern Thailand life and to fill up on the great street food
Lampang
Most travellers speed through Lampang on a bus from Bangkok heading to the North or pass through a little more slowly on the overnight train to Chiang Mai. But it's worth stopping and spending a day or two enjoying Lampang itself. From it's pleasant main town, famous for it's horse drawn carriages to it's National Parks and some very famous Temples, Lampang is a pleasant alternative to the hustle and bustle of Chiang Mai city a short distance to the North.
Highlights:
Wat Chalerm Prakiat – a stunning mountain top Temple with chedi's dotted along a mountain ridge. Don't miss it!
Enjoy a tour around Lampang town in a horse drawn carriage
Chae Son National Park – hot springs, forests and mountain trails to explore

Lamphun
The last of the Upper Northern Thailand provinces, Lamphun is full of history and in the past was one of the most significant cities in the region. Less mountainous than Chiang Mai just to the North (although still plenty of beautiful hills around) Lamphun is packed with culture, stunning Temples and great little hideaways. Even if you time is limited it's worth spending time in Lamphun 'town' with it's attractive wooden buildings and laid back atmosphere.
Highlights:
Explore Lamphun town and Wat Phrathat Haripunchai
Rent a bike and cycle through small rural villages and longan plantations
Stay at the very cool 549 Resort and Café on the way to Li, Lamphun. Great views over the mountains towards Chiang Mai and a real Northern Thai welcome
Like the sound of 'the North', then why not join The Tuk Tuk Club for one of our incredible, award winning Tuk Tuk Adventures through Chiang Mai and Mae Hong Son provinces. Superb adventures and a lifetime of memories!
And if you're keen to learn more about Northern Thailand and get yourself ready for the adventure of a lifetime, then take a look here….