What are the best places to visit in Northern Thailand?
We could easily write a whole book on what are the best places to visit in Northern Thailand and probably still not cover even half of them – yes, there's that much to see, do and experience in the North. But here is a starter for anyone planning a trip to Northern Thailand or anyone looking to come back for yet more adventure.
Northern Thailand covers 17 provinces from Uthai Thani in the South of the region to Petchabun in the East, Chiang Rai in the far North and Mae Hong Son and Tak in the West. Whilst all of the Northern provinces have lots on offer to travellers, we're highlighting our top 5 destinations in Northern Thailand to get you started!
Chiang Mai
The most famous province of Northern Thailand and for most people the gateway to the North. Super easy to get to – you can fly from Bangkok in just an hour or alternatively take the classic overnight train – Chiang Mai is a great place to start your Northern Thailand travels in. Chiang Mai city is the biggest city in Northern Thailand and has something for all. From stunning Temples to hipster coffee shops, 5 star resorts to cheap as chips guest houses, superb street food to high class Northern Thai fine dining, the city really is a great place to explore.
And then there's the province itself. The city is surrounded by mountains and forest offering a huge array of things to do and places to explore. Whether you're looking for remote Temples deep in the forest or want to spend some time learning about and experiencing traditional Hill Tribe culture. Or you're keen to trek through the mountains or just sit and enjoy stunning waterfalls. Chiang Mai is a large province and the more you explore and get off the beaten track the more 'wow' factor there is.
A must visit for all travellers to Thailand.
For more information on Chiang Mai, take a look at our Chiang Mai guides here
Our top tip: Remember, there's much more to Chiang Mai than the city – get out into the mountains and stay in a small village or mountain resort to really get a sense of what Chiang Mai is all about. And the easiest way to do this is with The Tuk Tuk Club!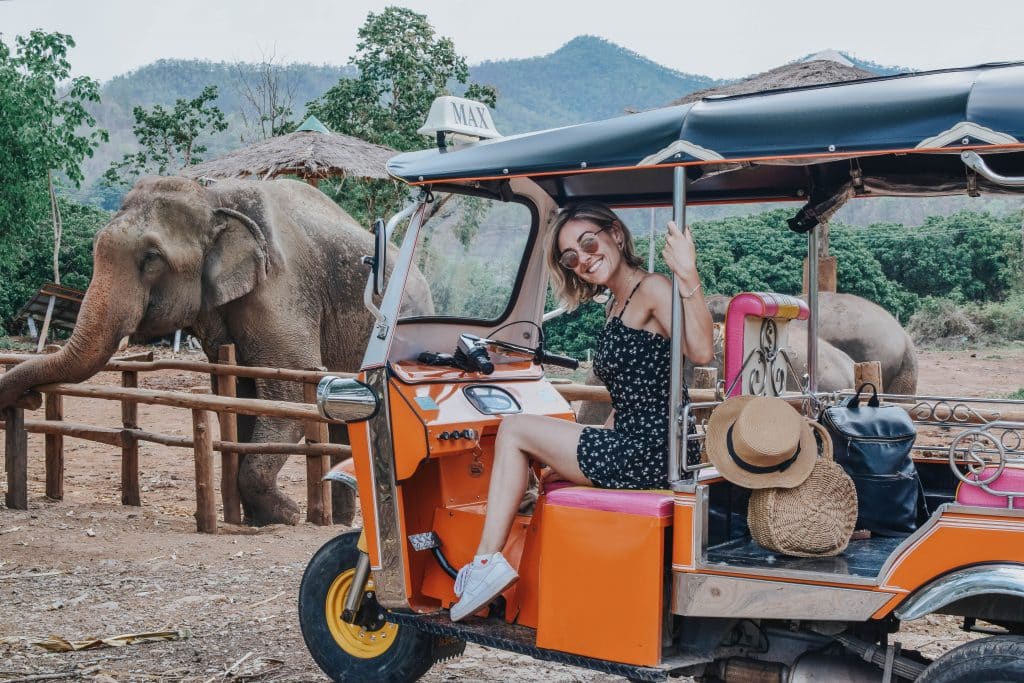 Mae Hong Son
In the far North West of Thailand, Mae Hong Son should be on everyone's list as one of the top places to spend time in Thailand. With it's spectacular mountains and Hill Tribe villages, Mae Hong Son sums up just what is so great about Northern Thailand.
Pai is perhaps the most famous 'town' in the province, famous initially as a backpackers hangout it still retains some of it's 'travellers' vibe with it's vibrant street market and huge range of bars and restaurants. However, know it also has some cool places to stay for a romantic break or just to soak up the mountain atmosphere.
Mae Hong Son is the 'capital' of the province and a fantastic place to visit. Set in a valley between steep forest covered mountains and with a lake in the middle of the town, atmospheric doesn't quite do it.
However, the real draw of Mae Hong Son are the mountains and tiny communities dotted all over the province. Perfect for the more adventurous traveller and with more awesome trekking than you could ever need, put Mae Hong Son on your list today. And for more detailed information about Mae Hong Son have a look at our guides here
Our top tip: Schedule a couple of days (or more) of your Thailand travels to stay at the wonderful Fern Resort. One of the best places to stay anywhere in Thailand. Trust us, you won't regret it
Over in the East of Northern Thailand, Nan is still the hidden gem of Northern Thailand, at least to overseas visitors. In 2019 around 1,000,000 people visited the province but only 30,000 were from outside Thailand and this just proves that Thai's know their country better than anyone else.
There's only one word to describe Nan – spectacular
Again, it's all about mountains in Nan and once you've had your breath taken away by Chiang Mai and Mae Hong Son, prepare to be breathless again as you travel through this fantastic province.
You can fly into Nan 'city' (the capital) in just over an hour from Bangkok and whilst the city itself is very pleasant – clean, laid back and easy to get around – it's what lies outside that makes this area special. The mountains aren't as high as those in Chiang Mai but they are much steeper and feel much more dramatic. And as there are so few people in the province it feels much wilder and more remote giving that great feeling of adventure. You can't really go wrong anywhere in Nan and for lovers of roadtrips this is Thailand nirvana. Give it a go next time you're in Thailand – you won't be sorry.
Our top tip: Drive from Pua to Bo Kluea along route 1256. It takes you along a mountain ridge for around 30km's and the scenery is incredible. And then stay the night in Ban Saphan in one of the super laid back guest houses lining the river. It doesn't get much more chilled and Northern Thailand than this.
Tak
Tak province is in 'lower Northern' Thailand running along the border with Myanmar and a fascinating place to explore. Whilst more adventurous travellers could spend days deep in the hills or Northern Tak province, the highlights are further South in the mountain community of UmPhang and Thi Lor Su waterfalls.
Mae Sot is the gateway to UmPhang and itself is an interesting overnight destination right on the border with Myanmar – it's easy to spend a few hours watching people go back and forth across the river and get soak up what feels like a very different culture.
The drive to UmPhang is awesome. Winding through the mountains with hairpin bend after hairpin bend you pass a couple of huge Karen refugee camps before you arrive in the small town of UmPhang that in many ways feels it's in a totally different country.
And if you make it to UmPhang you simply have to visit Thi Lor Su waterfalls. Thailand's highest waterfalls are hidden deep in the forest and the most exciting way to get there is to combine hiking with rafting and then camping near the falls. A proper adventure in a region of Thailand than until relatively recently was known only to local villagers.
Our top tip: Hidden deep in the mountains North of Mae Sot is a stunning mountain top village that's only recently opened to visitors. And the community here look after a small number of elephants deep in the forest that you can hike and observe. For the adventurous this is perhaps the perfect combination of culture, mountains and elephants – what Northern Thailand is all about. Find out more about these mountain adventures here.
Petchabun
Petchabun is one of the lower Northern Thailand provinces and on the regions Eastern border. Relatively few international visitors make it to Petchabun in their rush to head to Chiang Mai and whilst this is a great shame (they're missing out on a superb province) at the same time it makes sure everything remains very laid back and nice and quiet.
Yet more mountains and National Parks are what make Petchabun special and up in the hills the weather all year round is very nice and cool. Popular with Thai travellers the area around Khao Kho is known as the 'Switzerland' of Thailand (but don't be fooled – there are lots of places that seem to be named the Switzerland of Thailand!) and it really does feel very different from much of the rest of the country.
Khao Kho is a very beautiful area of Petchabun high in the hills with plenty of very nice places to stay. Perfect for relaxing and taking in the views, enjoying the cooler weather and also trekking, this is a great area to explore. And if you make it here don't miss out on visiting Wat Phrathat Pha Son Kaeo, a stunning 5 layered Buddha image right on the edge of a mountain 'drop off'. Stunning.
Another highlight of Petchabun is Phu Thap Boek. A small Hmong community perched at the top of the provinces highest mountain at over 1,700 metres. The road up is 'exciting', the views are incredible and spending a night in a simple cabin or tent up here is a fantastic way to soak up the atmosphere. But if you're planning to visit at New Year make sure you book well ahead – it's a hugely popular destination for Thai travellers to bring in the New Year too.
Our top tip: When visiting Wat Phrathat Pha Son make sure you stop for a hot chocolate at the nearby coffee shop. Perched right on the edge of a huge mountain ridge giving stunning views all around. They've also got great bean bags to relax on whilst enjoying some of the best hot chocolate all around!
We're just scratching the surface of all the amazing places to explore and visit in Northern Thailand here but hopefully have given you some inspiration. And if you're looking for the very best travel experiences in Northern Thailand then why not have a look at The Tuk Tuk Club's amazing adventures through the mountains of Chiang Mai and Mae Hong Son here…..
For more articles on all things travel in Chiang Mai take a look at our articles here, or for an in depth look at Mae Hong Son and the world of travel opportunities visit here
And if you're keen just to learn more about the beauty of Northern Thailand and great ready for the adventure of a lifetime, take a look here