Quite simply a fantastic day in every single way
The challenge today – and for the next 10 days or so – was always going to be the heat (us Yorkshire folk are never really that comfortable once it gets over 15C). And with a forecast of clear skies, 40C+ temperatures it was with a bit of fear that I left the very pretty town of Thung Saliam heading Southish to Lan Krabue, in Kamphaeng Phet province.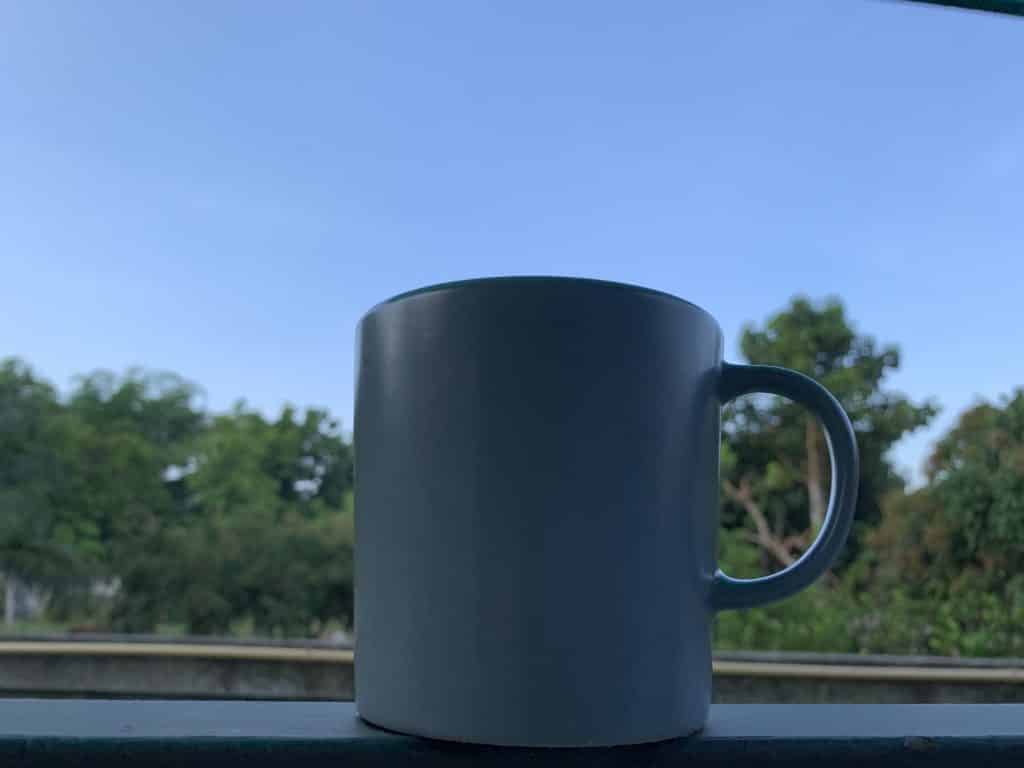 A later than normal start – poor old Noom stayed up all night to watch Man Utd lose (sorry but ha ha ha ha ha) – and the weather was somewhat furnace like from the off. However, within around 10km's we were heading along tiny rural lanes and through small farming communities with more than enough to keep the mind off the heat. I usually like listening to podcasts and music when cycling but by around 10am the heat was so much that my phone decided it was too much so it was time to enjoy a far more natural ride with the sound of the insects, the breeze and my wheezing as we pottered from stop to stop.
An early lunch in a tiny village – the best fried rice I've ever had (but I was starving) – causing more than a few stares from the local children (I doubt that this village every gets any visitors let alone foreigners) and then a couple of the braver lads showing me how to ride a bike fast and laughing all the time. We hit a 'major' town (ie has an air-conditioned convenience store) a couple of hours later – it was sooo tempting just to lie down on the floor and snooze in there but not sure that would have been a great idea – and after yet more drinks the final 60km of the day were ahead.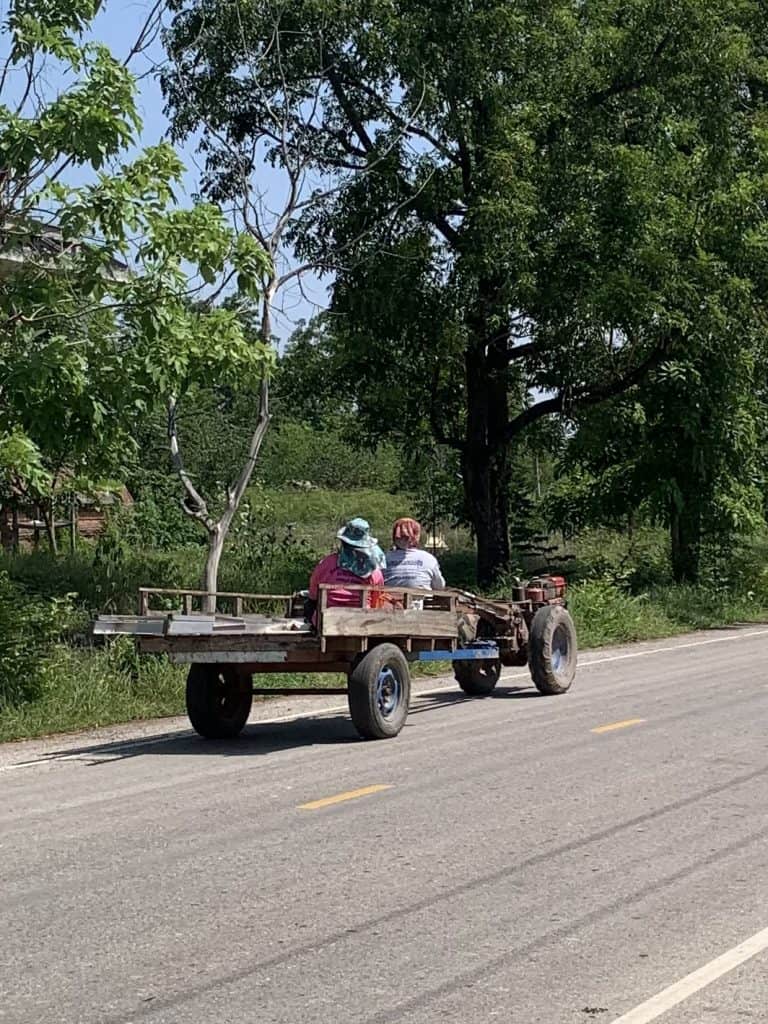 Now onto a slightly sensitive topic and the reason for the title of today's blog. Cycling is great fun (allegedly) and whilst I no expert I' well aware that care for one's bottom is a priority. Well I don't know what I've been doing wrong but let's just say we're at a scale of 7/10 on the 'fire' factor. At every stop in the afternoon I was somehow smiling and Noom has therefore decided all the blood from my brain has descended to my backside – the only explanation for why one would smile when cycling for hours and hours in 40C+ sunshine. Fingers crossed things improve and / or I don't run out of chamois cream (keep it in the fridge for unbelievable relief from cycling related sore……)
More seriously, the final stages into Lan Krabue was just fantastic. Really felt like we were in the middle of nowhere (we were!) and never ending vista's of rice fields, Temples, tiny villages and really cool old blokes on their home made tractors racing me from time to time (yes, their tractors are that slow but if there were prizes for the brightness of their smiles….)
I really do need to mention Noom again. Yesterday he surprised me with freshly brewed coffee on the side of the road. Today it was freshly brewed again but the time served as iced coffee – I never knew that you made iced coffee just by pouring coffee over ice (as you can tell, the blood has definitely left the brain). And we're getting into a great rhythm where he has an innate sense of when I'm out of water, in need of more iced towels (every 10 seconds) or just a break and a chat. You really couldn't ask for a better support crew and the beauty is that Noom is the reason I ever came across the elephants that we're fundraising for – so there's a lovely symmetry that we're doing this challenge together (and I reckon his job of driving the Tuk Tuk and looking after me is probably much harder than just turning the pedals)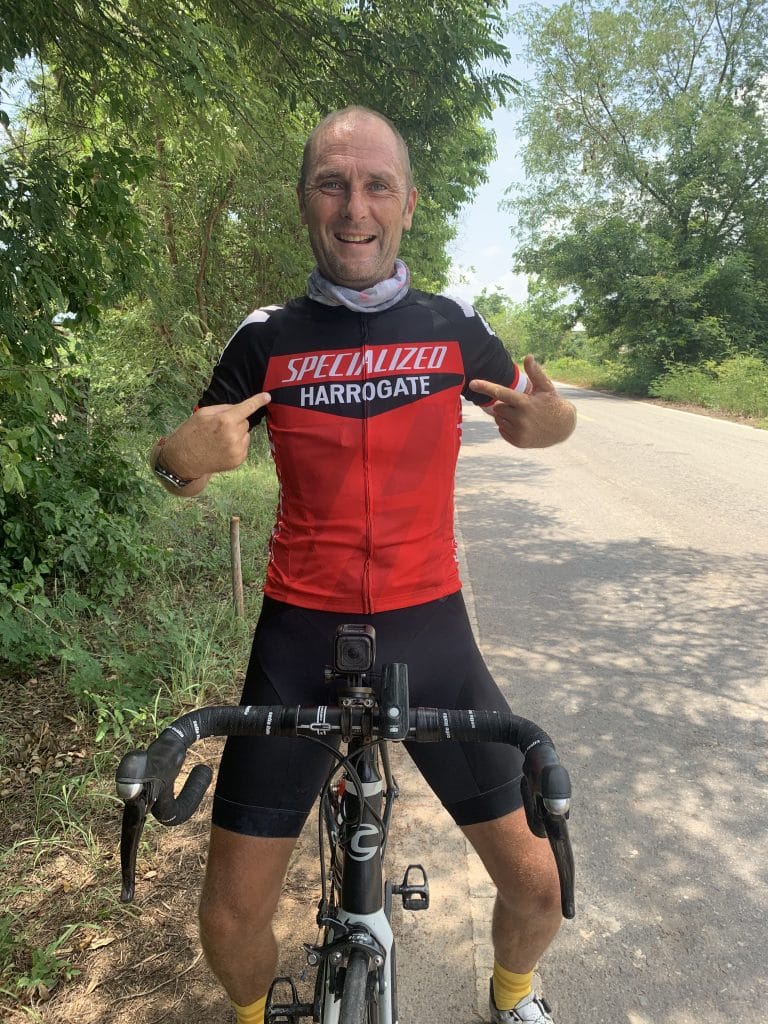 So, into Lan Krabue by late afternoon which is a lovely small rural town and we find somewhere simple to stay, perfect for the night. Into the town for much needed food (chicken, chicken and more chicken) and then the promise of a traditional Thai massage to help the legs, unfortunately not on the cards as the nearest masseur is 55km away – perhaps a bit too far to ride to ease the leg pain..
The good news (other than the fact that the adventure is proving to be very enjoyable so far) is that the wonderful support for the elephants is continuing to come in and every day I can't believe how generous everyone is. We're at 75% of the target now and if you know anyone at all who might be interested in supporting our cause please do share the link below with them – I totally understand that times are very tough all over the world but these elephants are super special and I definitely wouldn't endure these 'saddle sores' for anyone else!
Tomorrow looks like a 'short' day – 100km to a small village that no-one ever seems to have heard of…could be interesting!
Stats for the day
Distance – 125km
Elevation gain – 208m
Max temperature in the day – 41C
Calories burned – 2,541
Coffees drunk – 2 (including a fantastic freshly brewed iced coffee from support crew extraordinaire Noom)
Beers – 0 (still!)
Podcasts listened to – none today, so hot the phone gave up on me!
Music – ditto
Cigarettes – hmmmm