Think of Thailand and the humble Tuk Tuk will always spring to mind very quickly. Whether you're thinking of the cool three wheelers buzzing around the streets of Bangkok, the 'rocket' shaped versions taking you around the Historical Park of Ayutthya or even the 'motorbike plus sidecar' version you'll come across in the North East, they've all got one thing in common – they're great fun, put a smile on your face and get you right into the heart of wherever it is that you're exploring.
So imagine touring the mountains of Northern Thailand in your very own, bright orange, classic Bangkok Tuk Tuk! It might sound crazy but it really is the best way to see this part of the world and feel part of everywhere you go – be it the sounds and scent of a mountain village, the cool mountain breezes rushing through the cockpit or even the whiff of a herd of mountain cows approaching, One thing is for sure – when you're travelling by Tuk Tuk there's no hiding place. You're slap bang in the middle of the country and culture you're exploring and that's what travel's all about isn't it?
Here are a few recent photos of The Tuk Tuk Club's bright orange Tuk Tuks out and about helping create Thailand's most exciting travel experiences!
Ready for action – note the wonderfully discrete seat colours…..
Parked up at a hill top Temple in Mae Hong Son
Motoring through a small village, Chiang Mai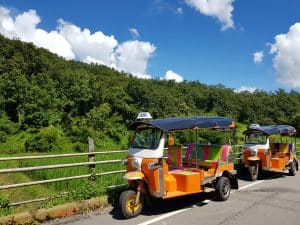 Rural road, deep in Mae Hon Son province
Does it get anymore Thailand than this?
And the roof can be a great place to chill and take in the views…..
Chatting with a local farmer or totally lost? We'll leave you to decide……
Cutting edge technology. Tuk Tuk style