More from Ella with her account of day 2 – thanks again Ella for sending all through to us!
My diary of a Tuk Tuk Adventure – Day 2
Everyone was up early eager to start the day and see what was in store. We all had breakfast buffet style at the hotel having a choice of an Asian or Western breakfast – I went for my first ever rice soup for breakfast, lovely and whilst a touch different from cereal and toast it somehow felt the right way to set myself up for the adventures ahead.
Before we headed out Tony gave us a great briefing for what was going to happen during the day, then we were off on the road again behind the wheel of our Tuk Tuks and all of us already feeling confident and, dare I say it, professional!
We then headed out onto tiny little roads and got to see yet more stunning scenery as we saw farmers harvesting their crops and generally going about their day. It might not sound much but seeing the farmers working really gave me a great sense of where I was and I began to feel that this really was going to be a very different (and much better) Thailand than I'd heard my friends talk about.
Our first stop was a Temple that felt as if it was in the middle of nowhere. A huge 4 story very ornate structure with amazing views towards the mountains where we'd be heading over the next few days.
Tony and Ya Ya taught us lots about Buddhism whilst we were there and we also came across a huge group of young boys all training to be monks – I'm not sure who was more surprised and interested, us watching them or they watching us!
Next there was a second slightly smaller temple that had four gigantic Buddhas arched on the top over- looking a stair case an incredible garden with 167 steps down to it (yes, we had to count them). Immediately we decided that we'd need to buy some lottery tickets with the numbers 1,6 and 7 in them (update from the end of the trip – the garden was lovely, the Buddha statues stunning but as yet, the numbers not lottery lucky!)
We then headed along the valley – more great roads and fun driving – to MaeVang Elephant home, the next stop for the day. As we drove in to the home in our little orange Tuk Tuks we could see 8 beautiful elephants 'hanging out' with two little ones seemingly intent on winding each other up.
We had lunch with the elephant literally only a few metres away, a surreal moment that's for sure.
After getting changed into some mahout (the people who spend their lives looking after elephants) outfits we all excitedly headed down to feed our new giant friends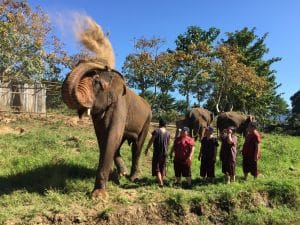 Tony explained the history of this home and explained how they'd created this environment to be a safe haven for the elephants where they are never ridden and no hooks are ever used. Admittedly I'm not an elephant expert but all the animals looked very relaxed and happy and the guys looking after them clearly loved their elephants and there seemed to be a huge bone between elephant and mahout.
We walked behind the elephants around the local village and along a dried up river bed until we reach the local river. Without hesitation, all the elephants we within seconds submerged in the water and enjoying what I guess for them is their daily bath! Whilst the older elephants seemed very graceful, the little ones ran into the river, spraying water from their trunks and stumbling over each other in their eagerness to have fun.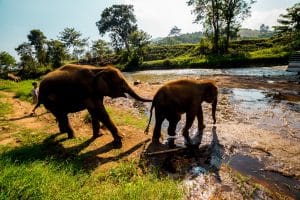 The mahouts invited us to help scrub and clean the elephants and once we got over the surprise of how cold the water was this fast became a once in a lifetime opportunity to be so close to these lovely animals.
After around 20 minutes the elephants decided they were clean and before we knew it up they stood and there were off, walking back 'home'. Wow, what an experience.
But that wasn't it for the day! Next we jumped into the back of a pick up truck and headed a few minutes down the road to get onto some bamboo rafts and float gently down the river. It was great to see that the rafting was all organised and run by people from the local community and we were expertly rafted downstream but some really funny young guys who seemed to be having as much fun as we were.
Finally, it was time to get back into our Tuk Tuks for some final driving practice on the way back to our hotel before we head up into the mountains tomorrow. What a great day, ended with more delicious food and a couple of well deserved cold beers.