Thailand and adventure travel have been synonymous for decades. With forests and mountains in the North, stunning beaches and islands in the South and myriad fascinating places in between, Thailand has been a draw to everyone with at least a semi-adventurous spirit for years.
However, the success of Thailand in promoting itself as a core travel destination has led many to questioning whether it's still possible to have an adventure in Thailand. After all, where's the adventure in being the 5th group of trekkers that day to pass through the 'authentic' hill tribe village, the 10th heavily laden boat to arrive at the 'secret' beach that morning or waking up to see the beach you've travelled so far to see covered in thousands of empty bottles from the revelry the night before?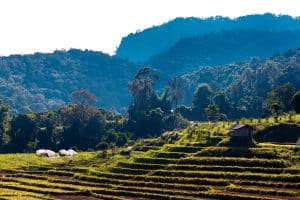 Of course there's nothing wrong with following the beaten path, the mountains are still beautiful, the beach views still stunning and the food still great. But, it sometimes feels as if those with a sense of adventure are beginning to desert Thailand and head to her less over-run neighbours such as Myanmar, Vietnam, Laos and Cambodia all of which have stunning scenery, fascinating cultures, great food and slightly less of the 'beaten-track' about them.
Whilst some parts of Thailand certainly can feel a bit 'over done', scratch the surface and there's still a huge amount of adventure travel to be had in South East Asia's most popular travel destination. And better still, you don't have to go all Bear Grylls to experience it!
While Chiang Mai has been a staple on many travel itineraries for many years and is most definitely not 'off the beaten track', the North of Thailand is, as a whole, massively under-represented in terms of the number of people who visit. Sure, people head to Chiang Mai city, do a short trek and maybe some bamboo rafting but after that attentions are quickly turned to the beach and points South. Of course Chiang Mai city is a great place to see, trekking is a great way to see the surrounding countryside and rafting can be a lot of fun but there is so much more to the region for people to experience.
Start heading West from Chiang Mai city and very soon you hit Doi Inthanon National Park. Home to Thailand's highest mountain, Doi Inthanon, at over 2,500 metres, the National Park is truly stunning. Steep winding roads – particularly if you take the back route via Mae Wang – tiny forest communities, the most incredible vista's and wonderful cool temperatures. And that's before you get out of whatever mode of transport you're using! There are all sorts of treks that can be done in the National Park, from simple strolls to multi-day adventures, ask around a little and you'll soon find a trek where you're not following a long line of other travellers.
For many, this is the further West they'll go and that leaves a vast amount of area for the more adventurous at heart to explore in relative peace!
Follow winding roads along valley floors and mountain ridges and before too long you end up in Mae Sariang. Mae Sariang has that great feeling of an outpost that's confident in itself and, whilst warm and welcoming to visitors, it won't really be too fussed if you're not there either! Arguably the best combination of any place to visit.
Dotted with fascinating temples, in a noticeably different style to those further East, bustling but relaxed streets and lying alongside a lazy river with mountains hovering in the distance this town should be a must see for all adventure travel aficionados. While there isn't one single spectacular site to draw people in, the ambience alone is worth the travel. Combine this with great food to be had whilst sitting overlooking the river as the sun goes down and it doesn't get much better. That is until you head on a bit further, this time North, towards Mae Hong Son town.
There's pretty much only one route between the two towns – that is unless you're keen to trek through forests for 7 days or so – and it makes up what must be Thailand's most scenic route, the Mae Hong Son loop.
With more bends than you can count, the road soars up and over numerous mountain ridges and you vary from being immersed in towering trees and cliffs to then having stunning views as far as the eye can see. The road between Mae Sariang and Mae Hong Son might not be very long in terms of distance but anyone who enjoys incredible scenery (and great coffee!) could spend days loitering along the way. Add into this the fact that the people you'll come across, rather than being a bit jaded at saying hello to the 73rd traveller they've seen that hour, are the opposite and have that wonderful warmth and charm that made Thailand so popular in the first place. Even the most jaded world traveller will find that their travel juices get flowing on a road like this.
And if the scenery and people wasn't enough, Mae Hong Son town itself has perhaps the greatest sunset bar in South East Asia nestled in between rice fields and mountains. Almost guaranteed to tempt you in for one beer but see you leave after having lost count….
Spending a day or two around Mae Hong Son town is not to be missed. With great trekking (or walking!), no crowds, fantastic mountains and, like Mae Sariang, laid back and warm people, this is the sort of place that sticks in your memory forever and one of the locations that makes Thailand so special.
The Mae Hong Son loop then carries on towards Pai but not before passing through small Shan communities, yet more stunning vista's and some awesome hillside coffee shops. For the more adventurous the trekking opportunities all around this area are to die for. A million miles from the well-trodden paths closer to Chiang Mai and communities still keen to treat visitors to old fashioned hospitality rather than another coach load on a conveyor belt.
Pai itself is firmly on the slightly more adventurous back packer circuit but that doesn't mean you should give it a miss. With some very cool and laid back places to stay in the surrounding area and the opportunity to pop into town for a fix of pancakes and quinoa the town offers something very different to Mae Sariang and Mae Hong Son. The centre of town may well be becoming a bit over-run but that doesn't detract from the fascinating rural Temples dotted around, the stunning mountain views and the fact that this makes a great location to re-charge after the excitement of the Mae Hong Son Loop.
The places here represent just a fraction of the possibilities for adventure and getting off the beaten track in Thailand and thankfully these days a number of forward thinking small companies are beginning to really open up some fantastic opportunities to travellers who want to experience this sort of travel. Whether it be staying in a tree house in Chiang Dao or trekking on the Burmese border in Mae Hong Son, taking off road motorbike trips through the dirt tracks of the North or even driving your own Tuk Tuk along the Mae Hong Son Loop – there's still plenty of adventure to be had in Thailand so get there before the rest of the world finds out.