One of the biggest draws for visitors to Northern Thailand is the opportunity to learn about and meet these wonderful animals. With a deep connection to Thai culture and communities, local travellers are often just as excited to see elephants as overseas visitors and, no matter how many times you've seen these fantastic animals, one never gets bored of watching and learning about them.
Here are a selection of great elephant images from Tuk Tuk Club travellers.
So much expression in that face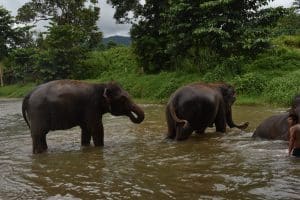 Enjoying time cooling down in the local river
Wandering through the countryside
A sneaky photo as an elephant passes by!
Even an elephants bottom is a thing of wonder……
The Tuk Tuk Club works closely with a small elephant home around 90 minutes outside Chiang Mai. They've been on a great journey over the last 5 years, moving away from anything to do with elephant riding and working to ensure that their elephants come first, whilst still enabling a sustainable life for their mahouts. Find out more by joining one of our adventures and learning about the work of the elephant home, and of course meeting their lovely elephants.
Start your journey here – The Tuk Tuk Club Adventures in Northern Thailand